Meta's Performance 5 Framework: Getting Personal with Scale
Meta's Performance 5 Framework calls out five high-impact best practices for advertising across its properties. The fourth installment of this series dives into recommendation number three: Differentiate your creative by audience. 
The "spray & pray" approach to marketing has become obsolete. Astute marketers are honing their advertising strategies to deliver distinct messages that resonate with diverse customer needs and interests. That's a smart move because it's no secret that Meta rewards relevant ads with increased frequency and a lower cost of advertising.
"People prefer to see ads that are relevant to them. And when businesses show their ads to relevant audiences, they see better business outcomes. That's why we consider how relevant each ad is to a person before delivering an ad to that person. Ads that are more relevant cost less and see more results. This leads to better experiences for people and businesses alike."   

Meta on Ad Relevance Diagnostics
"Differentiate Your Creative by Audience" is good advice. After all, not every place is the same. For brands, it's really hard to differentiate at the national level. At the regional or DMA level, you may have a little more success, but to have an ad speak genuinely to a geographically-specific audience, brands must get local. That requires scale, which is an exceedingly time-consuming endeavor when utilizing Meta's native tools.
Tiger Pistol takes Meta's best practices and unparalleled machine learning optimization and combines it with automation that turns one ad into hundreds or thousands of localized ads, ensuring your message resonates with your audience. Let's break down how this works. 
Relevant Creative Through Ad Sets
The second part of this series discussed how to simplify account structure and centralize campaigns. We discussed how Tiger Pistol's platform efficiently arranges ad sets in groups of three within a campaign, following industry best practices. This arrangement allows brands to enhance relevance by customizing creative content for each ad set. For instance, the first ad set can target individuals aged 18-29, the second ad set can focus on those aged 30-59, and the third ad set can cater to 60 and above. The messaging and creative elements can be tailored specifically to appeal to each age group. If appropriate, one ad in each group could even be in Spanish or another commonly spoken local language.
Dynamic Localization
From there, every ad on Tiger Pistol's platform automatically localizes, ensuring they reach the right audience with the right message at the right time. Utilizing brand-built media and copy in a templated structure, ads can be customized to mention brand and location, vary pricing or promotions, highlight location attributes, phone numbers, and more. Ads are published from the franchisee or channel partner's local Facebook Business Page, with calls-to-action directing consumers to take immediate steps to purchase at that specific location.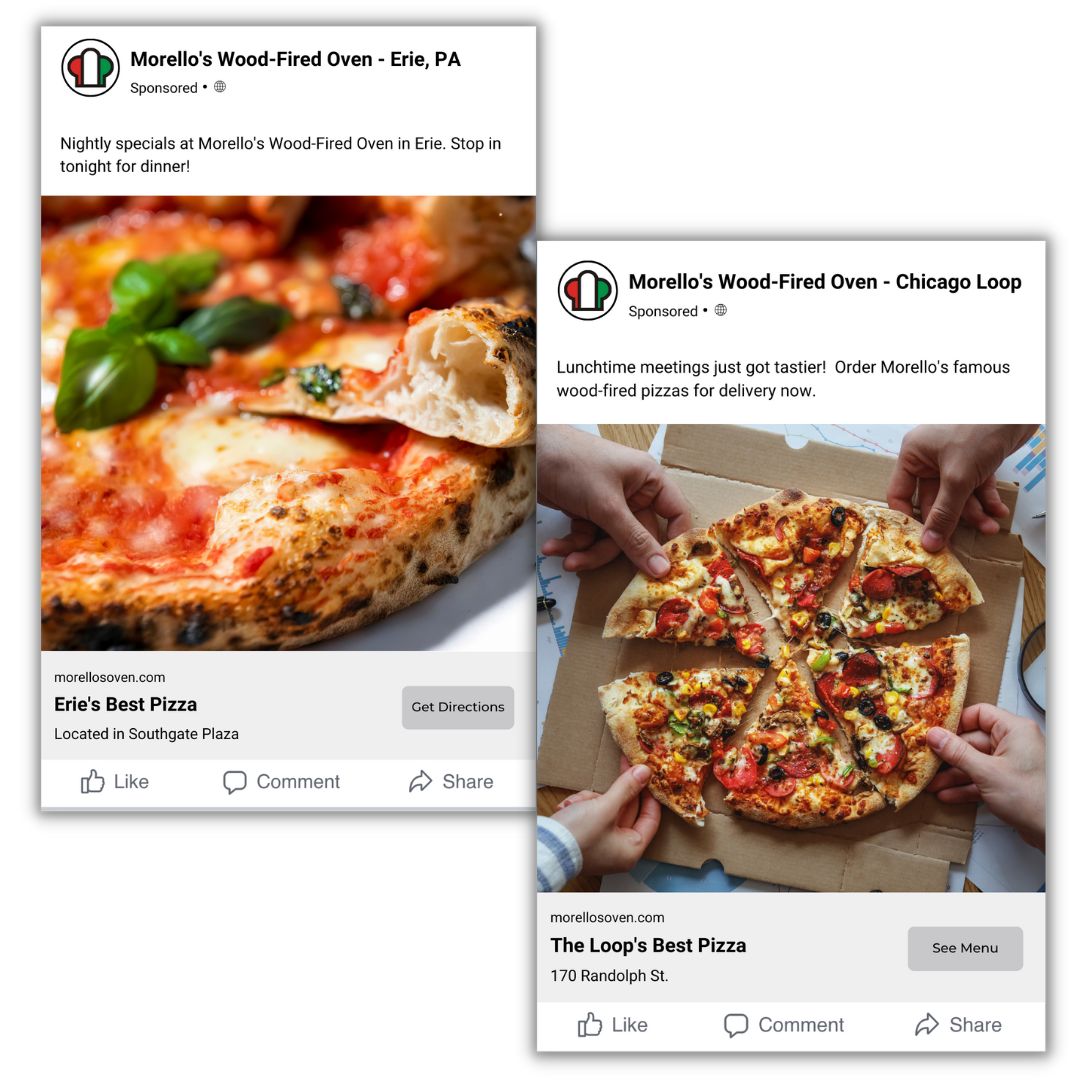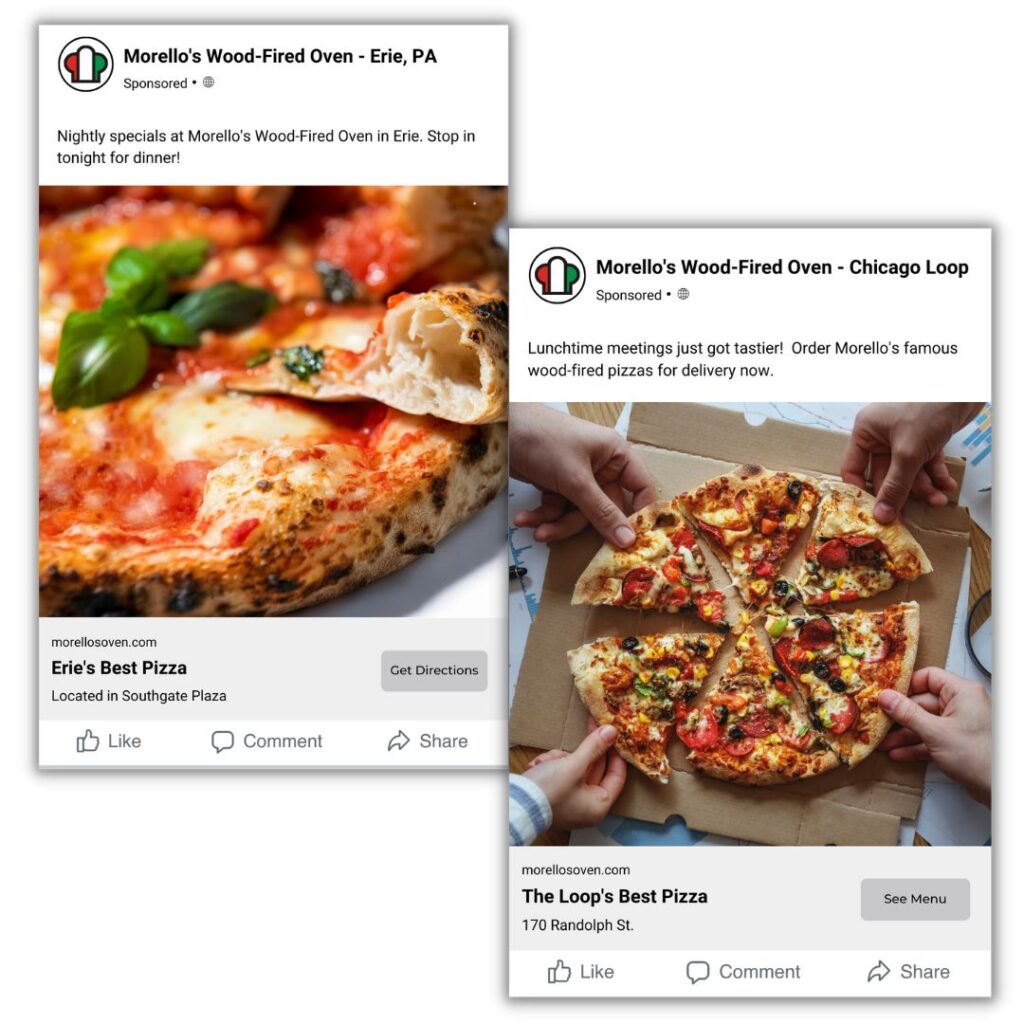 Bring Your Own Data 
Our platform establishes a reliable, trustworthy hub for local partner data that enhances ad creative. Brands can import their data via bulk upload, integration with a local listings provider, integration with a coupon provider, and more. Tiger Pistol's platform will dynamically elevate their ads by showcasing distinctive location features like extended hours, outdoor dining, drive-thru exclusivity, or enticing promotions. This guarantees accuracy and uniformity across all your campaigns, resulting in a seamless customer experience.
Solving for Creative Fatigue
When an audience is repeatedly exposed to the same creative, engagement rates decline, resulting in a higher cost-per-result. To combat this, it's essential to refresh ads every couple of months at a minimum. Creative fatigue, or ad fatigue, can significantly impact Meta's quality score and hinder an ad's overall performance. 
Tiger Pistol's automated A/B testing solves the problem of ad fatigue and frequency caps. A/B Testing produces continually optimized and refreshed social campaigns that utilize the most effective assets at a brand-managed scheduled campaign refresh. Additionally, Tiger Pistol offers brand-created libraries of pre-built ads ready to deploy. Franchisees or channel partners can simply choose an ad and publish it with very little effort.  
Meta's Performance 5 Framework emphasizes differentiating creative by audience for effective advertising. Tiger Pistol combines Meta's best practices and automation to transform one ad into many localized ads. This ensures message resonance, combating creative fatigue, and improving campaign performance.