Meta's Performance 5 Framework: Using Automation Tools to Optimize Campaigns
Meta's Performance 5 Framework revolutionizes advertisers' performance by implementing five powerful best practices that amplify results when using Meta's ad products. In the third part of our series, exploring the Performance 5 Framework, we dive into recommendation number two: Use Automation Tools to Optimize Campaigns.
Automation offers marketers a simplified and straightforward solution to keeping up with consumers' ever-changing paths. The best part is that it doesn't require extra money, resources, or time. With Meta's Advantage and Advantage+ suite of products, marketers can effortlessly automate their entire campaign setup using tools like Advantage+ campaigns. This means they can easily handle audience targeting, creative development, and ad placement, all in one place. Meta's research shows that many of its advertisers are already reaping the rewards when using at least one Meta Advantage product. It's clear that these tools provide significant value to marketers across the board.
Nevertheless, automating national campaigns and automating individual local campaigns at scale require different approaches. Our platform is built on Meta's API, enabling us to leverage Meta's existing automation tools. This combined with our automations for scale ensures ads consistently adhere to Meta's best practices, whether you're launching 100 campaigns or 1,000. Here's how we achieve it.
Simplified Ad Creation Process
Simplifying Ad Creation for Resellers & Agencies
For SMB resellers and agencies, Tiger Pistol offers Recurring Campaigns, a subscription-based social advertising solution, which automates the creation of Facebook and Instagram campaigns. By offering a subscription-based social advertising solution, it significantly reduces operational hours. This capability empowers SMB resellers and agencies to efficiently set up and manage multiple social advertising campaigns simultaneously. They can customize campaign dates, objectives, audiences, and creative assets for their end-advertisers, and even schedule seasonal campaigns, promotions, and offers in advance. Tiger Pistol's automated A/B testing solves the issue of ad fatigue and frequency limits by continuously optimizing and refreshing social campaigns, utilizing the most effective assets at the scheduled campaign refresh.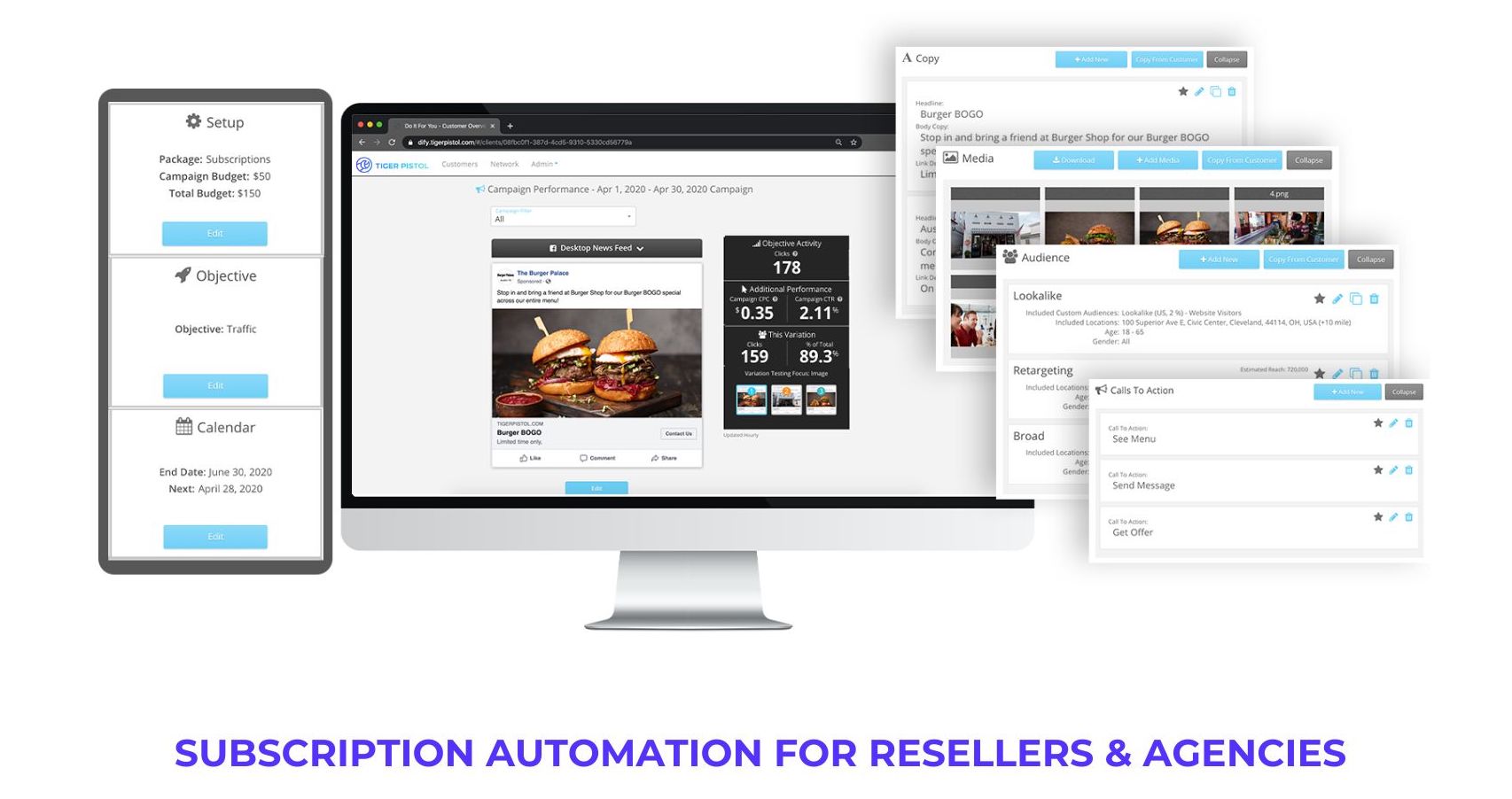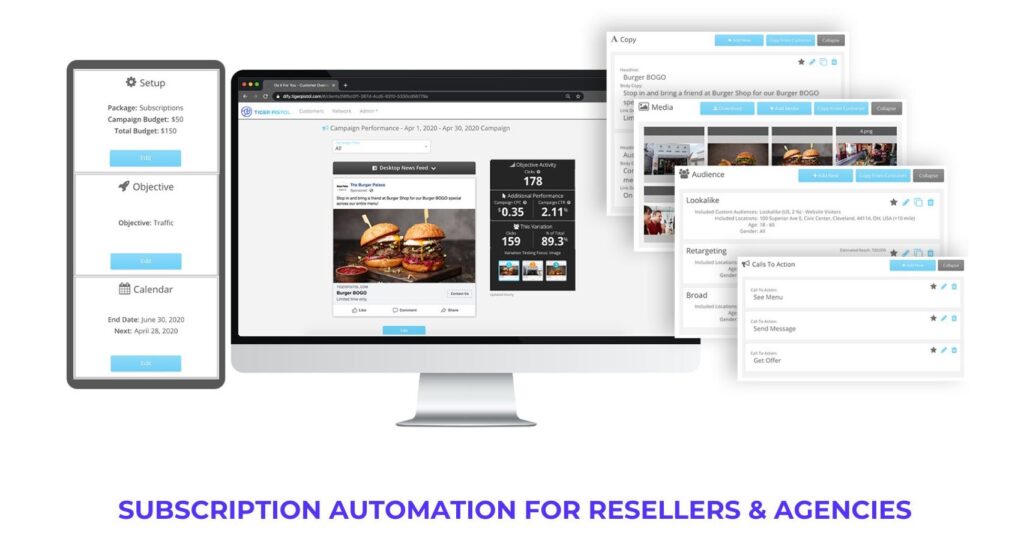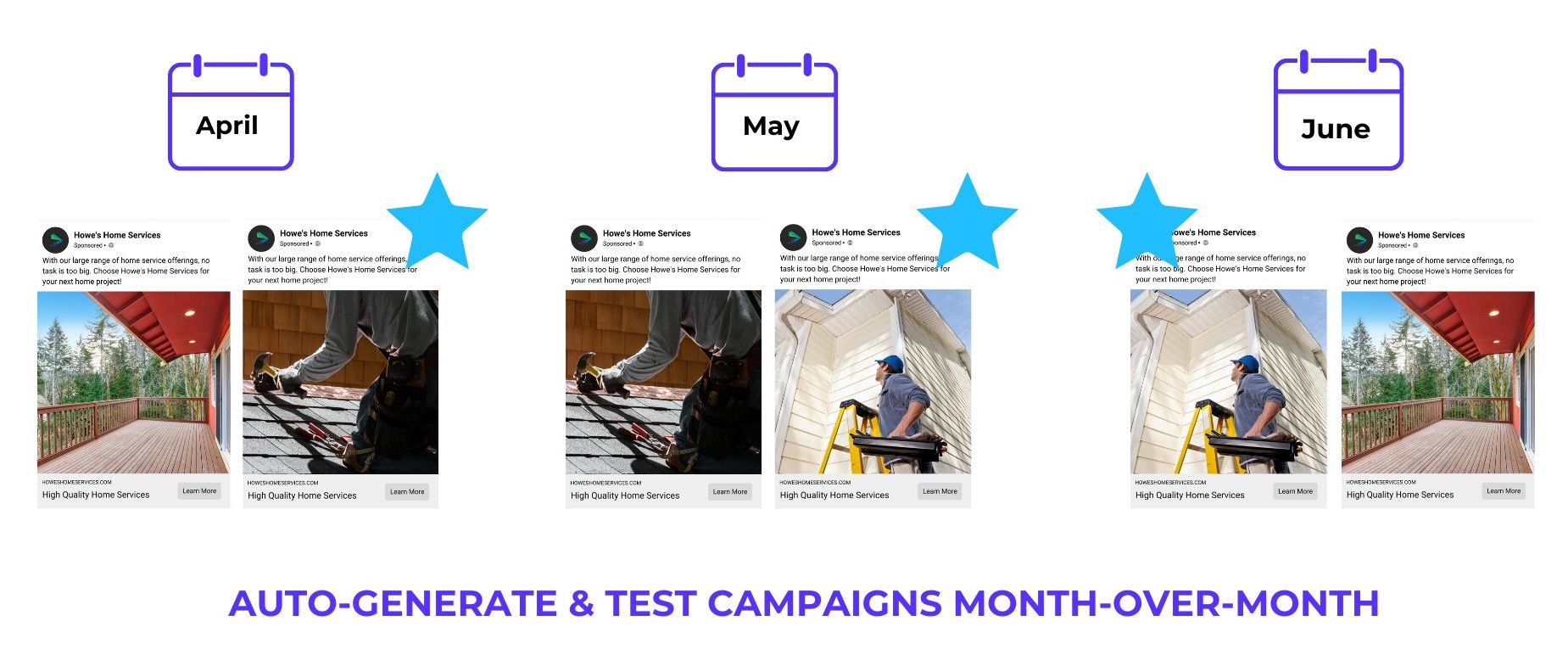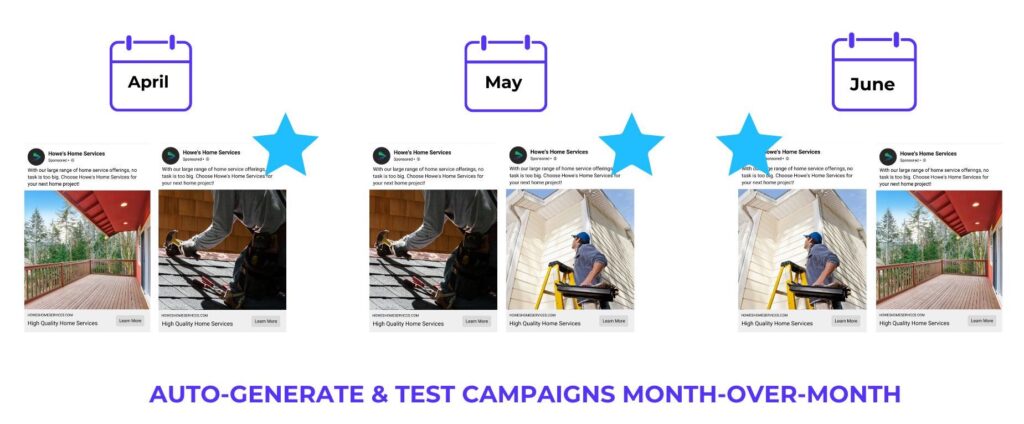 Simplifying Ad Creation for Brands
Tiger Pistol enables brand marketers to create a campaign framework that includes creative, copy, targeting, and a funding source. We call these brand-approved, pre-designed social campaigns "Templates," and they empower brand marketers to transform a single campaign into thousands. Whether publishing on behalf of their channel partners or enabling their partners to select and publish themselves, templates provide automation to launch campaigns more efficiently and effectively. This accelerates the building process while maintaining the consistency of brand messaging. With Templates, brand marketers can create multiple campaigns with shared attributes: Campaign Objective, Audience Targeting, Placements, Headline and Body Copy, Media, and CTA (Call-to-Action).
These templates dynamically localize and launch from your local partners' Facebook Business Pages – achieving true localization and completing the trifecta of critical modifiers to increase Facebook and Instagram ad performance while dramatically decreasing advertising costs.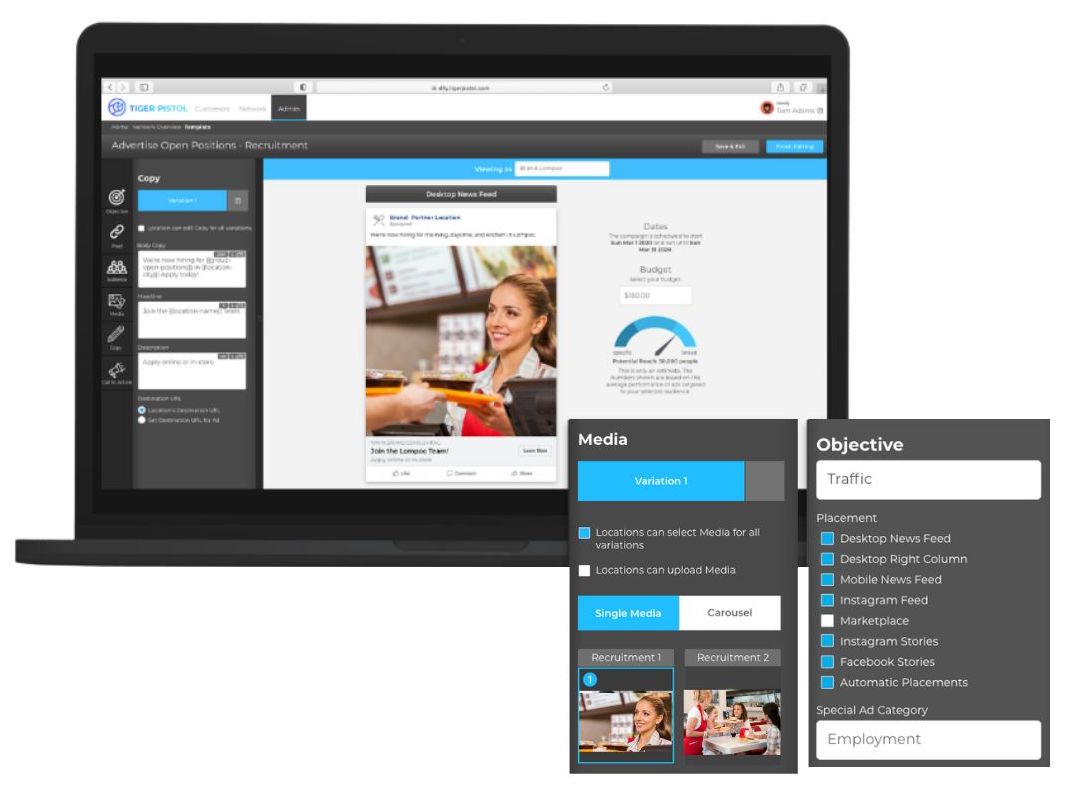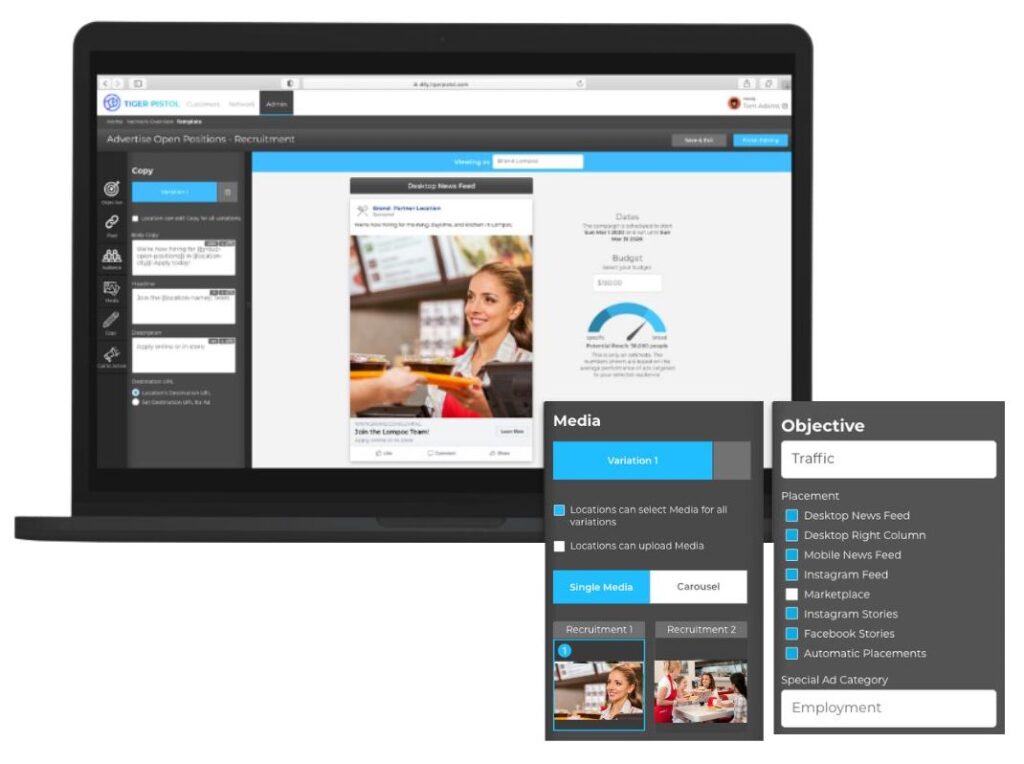 Simplified, Automated Targeting Through Localization
By utilizing local Facebook Business Pages for ad launches, we enable multi-location advertisers to effectively reach relevant consumers based on their proximity to their locations. This simplifies targeting and protects against over-engineered audiences. For instance, a wood-fired pizza restaurant in Dallas would target consumers within a 10-mile radius of the establishment. Meta's algorithm will deliver the ad to probable diners in the area. This eliminates the necessity for advertisers to include potentially limiting parameters such as "foodie" or "interested in pizza" (is anyone NOT interested in pizza?). This enables Meta's algorithms to identify individuals who engage with ads, focusing on those present in the neighborhood, and selects the most suitable recipients within the broader parameters. This is important when you consider that 93% of consumers state they travel a maximum of 20 minutes for their everyday purchases. Additionally, a staggering 87% of them refuse to venture beyond 15 minutes, meaning this strategy becomes even more important.
Leverage Machine Learning from Meta's Algorithm
Tiger Pistol's platform was designed to simplify ad creation and publishing at scale. We eliminated numerous complex decision points native to the Meta ads platform to streamline the campaign build process while adhering to Meta's best practices. Meta has incorporated machine learning science into their products for over a decade. Their formula is straightforward: Create ads based on Meta's best practices and trust the algorithm to handle the rest.
Many advertisers, particularly those in the agency space, often feel compelled to constantly tweak and refine their campaigns in pursuit of better performance. However, entrusting the algorithm to handle these tasks produces superior results and reduces workload. The key lies in setting up campaigns correctly from the start. This involves targeting a wide but intentional audience, incorporating unique creative elements, and conveying a strong message.
Tiger Pistol campaigns employ lifetime campaign budget optimization. We deliberately avoid offering the option to set a daily budget, as it contradicts Meta's recommended practices. Our bidding strategy focuses on achieving the lowest cost while ensuring highly relevant ads due to their local nature. This approach significantly improves ad quality. Consequently, our local ads achieve lower CPX (Cost Per X) compared to national campaigns.
Consolidated Reporting 
Our reporting dashboard automates the consolidation of campaign data from all local partners utilizing our platform. By centralizing data that is usually dispersed across multiple ad groups or data sources, marketers can effectively analyze their performance and drive notable enhancements in conversion rates and ROI. Learn more about how Tiger Pistol addresses the Performance 5 recommendation Measure Your Campaign with Conversion Lift, A/B Testing and Marketing Mix Modeling.
BYOD (Bring Your Own Data) 
With Tiger Pistol, you can effortlessly BYOD (Bring Your Own Data), enabling marketers to leverage their rich data relationships and insights to drive campaign results. We can integrate with critical marketing tools, such as your CRM or local listings provider. This empowers brands to construct customized audience segments, enhance targeting precision, streamline workflows, monitor performance, and ensure unwavering accuracy. From API to bulk upload, Tiger Pistol has a diverse set of tools to connect your data to our platform.