Is Your AdTech Ready for Meta's Ad Objective Overhaul? It Better Be. ODAX is Here.
Originally Published 3/30/2022; Updated 7/14/2022
Meta recently began its rollout of its new Outcome-Driven Ad Experiences (ODAX) to a large portion of ad accounts, reframing the way advertisers choose an objective. It will likely prove to be one of the largest overhauls to Meta's advertising ecosystem in years. ODAX replaces Meta's current lengthy list of objectives with a truncated list of goal-oriented outcomes – a major change that could result in major headaches for AdTech users whose developers haven't prepared. This is especially true for those that may have to rethink their Meta advertising strategy in the wake of certain objectives being removed or rolled into others.
According to Meta, ODAX will: 
Simplify obtuse ad concepts for marketers on Meta.
Consolidate objectives with significant overlap or duplication.
Provide clear delineation between the way an ad optimizes and the location or format of the events that drive the optimization.
Before ODAX (and for the current advertisers as yet affected by the change), many of the available ad objectives mixed both outcomes and optimizations. For example, an advertiser could select a Messenger campaign to optimize to people likely to message a business. Yet, this caused confusion if the advertiser also hoped to capture lead information within the message, leaving them wondering if Lead Generation wouldn't have been the better objective choice. These types of questions arose all throughout Meta's former framework. ODAX aims to rectify this by more clearly delineating specific outcomes and grouping all their relevant "paths" (messages, form fills, clicks etc.) under the single outcome.
Additionally, for brands and resellers leveraging the Meta API through their AdTech, this will require that providers adjust the way campaigns are sent via API by as early as April. According to Meta, by that time AdTech developers will need to account for: 
New objective values
New destination types
New restrictions on conversion location, conversion events, and optimization goals for the new objective values
While the API changes mimic the ODAX framework as outlined, this will surely cause some AdTech providers to re-think how their own user interfaces work, especially in how decisions are ordered in their campaign publishing process. At Tiger Pistol, we're ready. We have always focused on simplifying the campaign development process, in part through highlighting outcomes over optimizations in our own UI to a certain degree already. We are able to do this by focusing on best practice automation. For example, a Traffic campaign in our Platform automatically deploys with Campaign Budget Optimization (CBO) and Landing Page View (LPV) optimization by default, only switching to Link Clicks if the advertiser is unable to facilitate LPV. Meta's move to ODAX, in many ways, reinforces much of our own established workflow, which we fine-tuned for ODAX months ago. For others, it may require more fundamental changes. 
To gear up for Meta's change, let's walk through the three key items you'll need to account for. 
The Outcomes (New Objectives)
Marketers will be most impacted by the consolidation of 11 campaign objectives to 6 campaign objectives.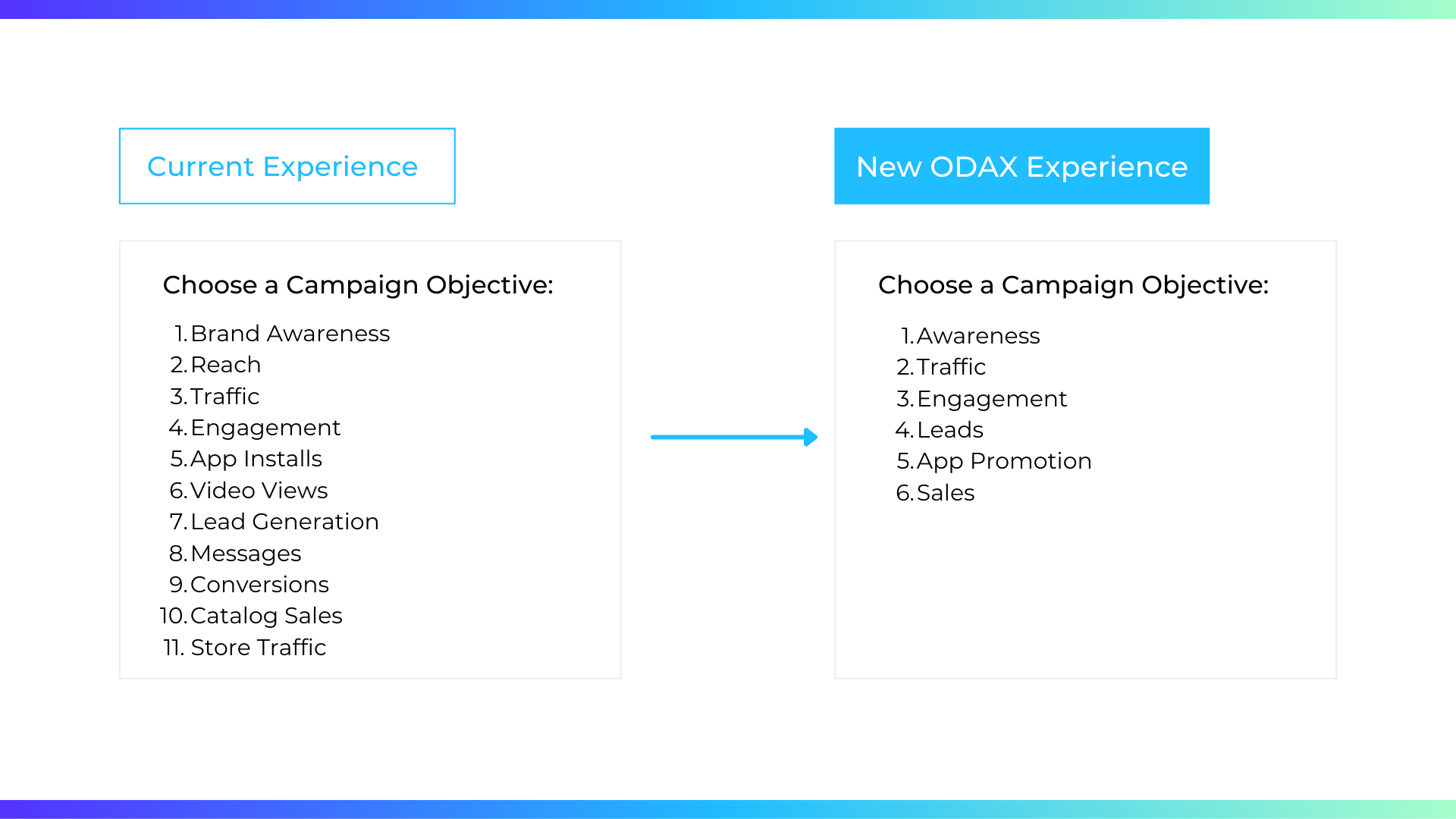 Meta believes these simplified objectives will enable marketers to better communicate their campaign's message. With fewer objectives, Ads Manager can gather more specific information about a marketer's campaign and in turn provide focused support for the marketer when setting up their campaign. If you have a favorite objective, don't fret. It's still there in most cases, it's just rolled under a new name.   
The Mapping
Options related to the removed objectives will still map to the new objectives – all for good reason! Suboptimal campaign setups and misaligned campaign objectives are more common than not for marketers, leaving them confused and quite frankly, frustrated. This mapping aims to solve the redundancy within the 11 objectives by simply asking you to pick from its new list of funnel-aligned results. 
For example, in the old model, a marketer looking to drive product sales sees several objective options related to sales; Conversions, Catalog Sales, Store Traffic, not to mention Traffic, Reach, and Lead Generation – which can also be used to create sales driven campaigns. Under ODAX, those looking to drive sales, simply choose the option for "Sales." This creates some more separation from the other core objectives such as Traffic, which becomes an optimization centered around driving overall traffic, rather than optimizing towards a specific sale. These changes ultimately make the process of aligning your marketing goals to a specific Meta optimization much easier.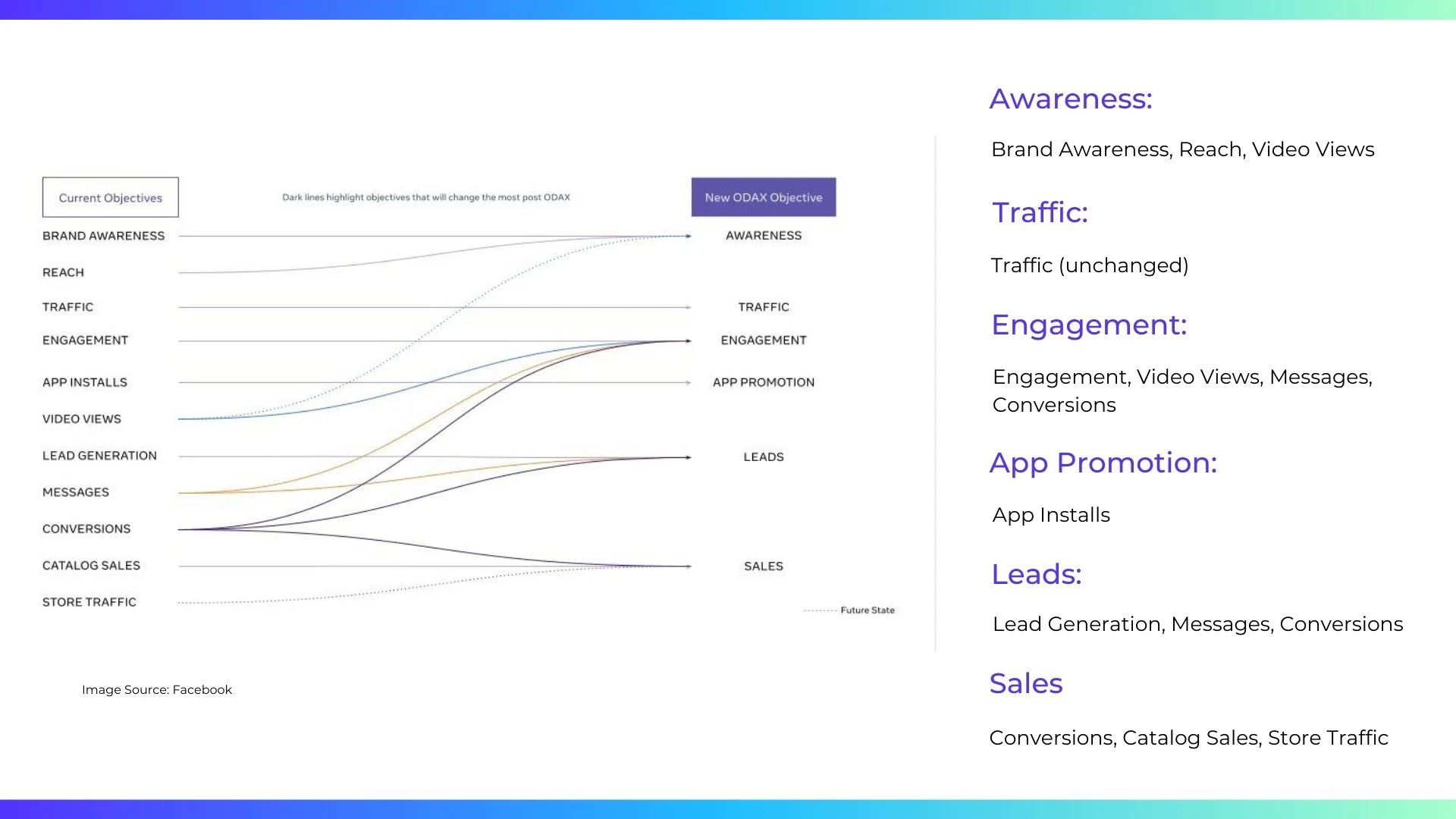 As you can see in the above chart, the most-impacted programs are those with a heavier focus on Conversions, Messages, and Video Views. Also, ODAX will not initially support the Store Traffic Objective. If your strategy relies on this objective, now's the time to pivot to an ODAX supported outcome. If your ad tech platform relies on this objective to scale, it's time to seek a platform that supports local ads from local Meta business pages.
The Rollout
Changes are, or will be, reflected in both the Ads Manager UI and for development partners via the Marketing API. Because these changes are not occurring universally, but rather in a phasic approach, advertisers may run into these complexities.  
There will be significant changes for sending through campaigns via the Marketing API.
The new objective experience will be set at the Ad Account level, likely on a rolling basis.
For SMB Resellers and Agencies that serve multiple brands, it may require working across ad accounts that may have either the original or the new ODAX experience.

Additionally, cross-channel conversion optimization will be disabled at first for everyone, but once it is up and running, adopting these solutions will be much easier fo

r marketers. 
The Big Benefit (We Hope!) 
It piques our interest that Meta mentions cross-channel campaign optimization. While this is speculation on our part (Meta hasn't announced the meaning behind "cross-channel optimization" yet), we're hoping that this process will result in optimized outcomes for those past objectives that fall under two or more different new objectives. For instance, today you can run a Lead campaign, a Conversion campaign, or a Messages campaign to get leads. In this new ODAX framework, you will be able to simply choose "Leads" as your outcome, and then specify how users should submit leads, such as via form fill or message. Ideally, Meta will auto-optimize delivery to the method that best suits your consumers in cases where you choose to do both types of lead submissions. This should also open up interesting new test and learn opportunities for advertisers.
What's the Initial Expected Impact on Tiger Pistol's Platform?

 
As a Meta Business Partner, we've been ahead of these changes for some time and users may notice the following minimal impacts: 
Traffic, Reach and Form Fill Leads underlying optimization will remain unchanged.
Conversions will be renamed to Sales.
Boost your Posts, Promote your Page and Get Video Views will be largely unchanged but will be associated with the Engagement Objective.
Have a question regarding ODAX and how it may affect your business? Contact us today, and we'll connect you with one of our social advertising experts.