Can Every Ad Speak to Me? Chasing the Holy Grail of Collaborative Social Advertising
The Math
The World Trade Organization says the world GDP is $80 trillion. The organization also says that 75% of worldwide sales flows through indirect channels. How many reasons does your brand have to capitalize on indirect channel sales with collaborative advertising?
60 Trillion Reasons
Yet, many brands still rely on antiquated and ineffective methods of supporting and leveraging their channel partners. Today, success requires innovation and collaboration to drive local engagement, activation, and sales.
The Possibility
Collaborative social advertising addresses the critical need to connect the brand's values to the community through the channel partner. Think of it as "Brand+," as collaborative advertising always needs a pairing:

Done well, collaborative advertising balances brand goals with channel partners' needs/wants, achieves speed-to-market at global scale, enhances partner loyalty and satisfaction, and facilitates higher performing campaign executions with lower effort and dramatic results. Let's examine how to remove the friction and barriers to social advertising at scale.
The Hard Truth
Scaling social advertising across channel partners in Facebook's native tools is difficult, error-prone, and time consuming. There. I said it. From selecting an objective, inputting your creative, and targeting your audience, you've likely put in 15 minutes to launch one ad. Now, let's do the math for 500 partners.
15 minutes x 500 partners = 7500 minutes, then 7500 minutes / 60 minutes = 125 hours
That's more than 3 work weeks! Want to A/B test? Double that.
The Need for Technology
Technology is essential for scaled social advertising efficiency, but you've still got loads of questions:
Who will manage the campaigns?

Do my partners need to be social marketing experts?

How do I train my partners?

How do I get my partners engaged?

How do I scale the solution?

How do I maintain brand standards?

Who pays for the advertising?

How do I know it will be effective?
Evaluating a social tech platform simply on efficiency is where many brands go awry. What's the saying? Two sides to every coin? In scaled collaborative social advertising, those sides are Efficiency and Performance. It doesn't matter if your brand has 500 partners, or many thousands, the fact of the matter is; to publish collaboratively with any of them takes a great amount of time. What's more, it's only worth doing if performance delivers positive results. It's not enough just to make execution a breeze, you want to make sure your brand's collaborative marketing results in high-value campaigns that track conversions, and dynamically speak to communities and consumers.
When weighing your options, consider these necessary elements to produce the desired results for your brand while simultaneously fostering channel partner satisfaction.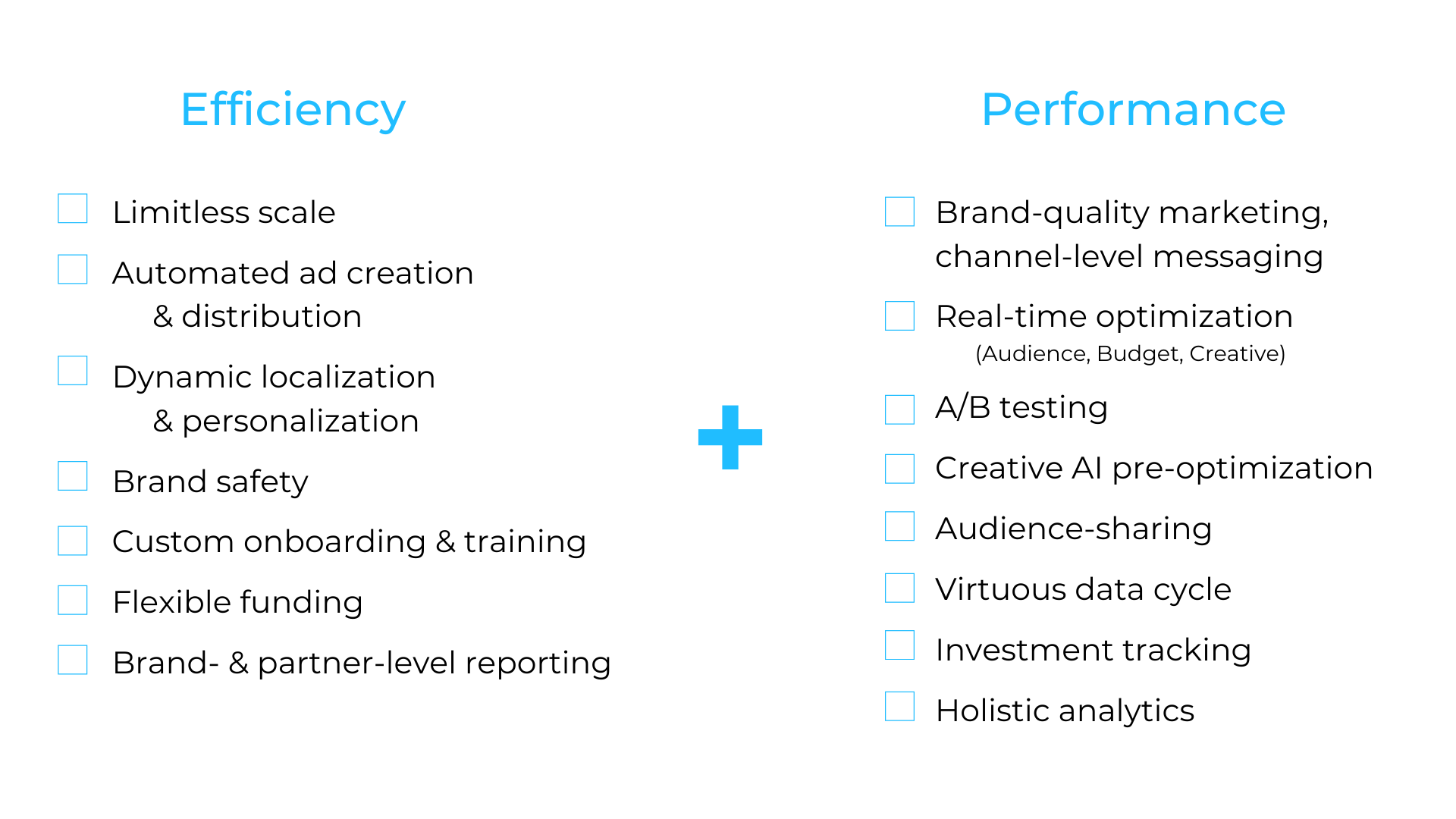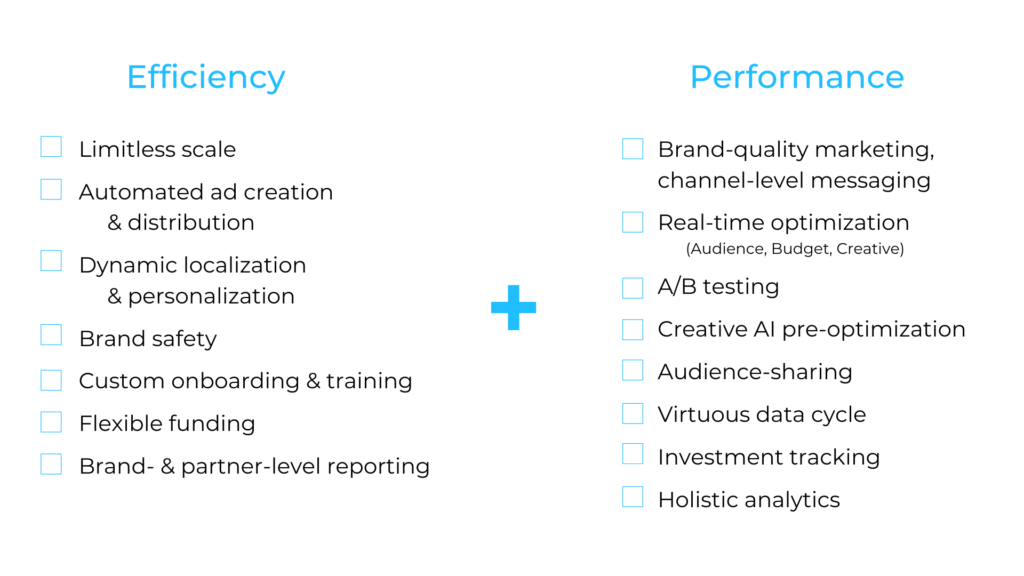 Brands need flexibility and accessibility to design and execute tailored campaigns that yield quick turnaround and incredible performance. With the right data and scale tools, brands are able to deploy highly personalized, national campaigns that are not only dynamically based on consumer preference or purchase behavior, but also account for location proximity, point of sale, and creative quality — all while contributing to the health of their partner relationships.
See how Tiger Pistol's platform makes high performance social advertising simple and scalable for brands and their partners, removing the barriers to customer acquisition and sales growth.