Tiger Pistol Named Localogy Excellence Award Winner
Tiger Pistol Technology Creates Critical Connection Between Anywhere Real Estate Agents and Homebuyers
AUSTIN, Texas, March 25, 2020 — Tiger Pistol, the leading collaborative advertising platform that delivers local activation at scale, announced today that it has won the prestigious Localogy Excellence Award for "Best Localized Marketing Campaign."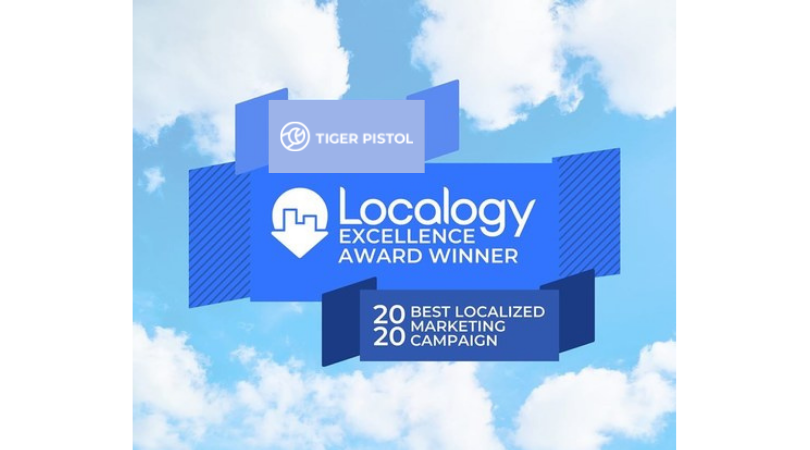 "Very few industry groups understand marketing success in the local marketplace the way Localogy does," said Paul Elliott. "Time and again, Tiger Pistol's global-to-local approach outperforms comparable brand-level campaign executions, and Localogy's recognition of Tiger Pistol for 'Best Localized Marketing Campaign' further emphasizes our category leadership and business impact."
Tiger Pistol stood out among industry competitors based on the remarkable social advertising results achieved for Realogy, a Fortune 500 real estate services provider, with a network of over 200,000 real estate agents serving multiple Anywhere franchises, including Sotheby's International Realty, Coldwell Banker, and Century 21 Real Estate. The collaboration between Tiger Pistol and Anywhere resulted in the highly successful launch of Social Ad Engine, Anywhere's exclusive instance of Tiger Pistol's platform that utilizes a custom integration with Anywhere's APIs, providing a seamless experience for agents to access the platform via single sign-on from their brand intranets.
The solution enables Anywhere's agents to easily promote their listings and themselves with auto-configured, best practice Facebook and Instagram campaigns.
"Social Ad Engine's power lies in the ability for agents to publish campaigns directly from their own agent-branded Facebook Page," said Joe Nathan, VP Client Management, Tiger Pistol. "While other real estate marketing platforms support Facebook ads, such ads are usually rudimentary, driving impressions around the listing, with little room for the agent to generate leads. Social Ad Engine leverages the most relevant Facebook Ads Objectives to drive the results that matter. Our platform supports the ability for agents to publish Facebook Lead Ads, and auto-creates best practice Facebook Lead Forms that have unique qualifying questions, making it easy for the agent to launch the ad with little knowledge of Facebook ads."
Tiger Pistol is also proud to announce that two of their partners were also honored by Localogy. Hibu, the leading provider of digital marketing solutions to local businesses across the United States, won a Localogy Excellence Award for "Most Significant Business Transformation" as the company made the titanic shift from a print and Yellow Pages-driven business to a digital marketing solutions provider, and BrandMuscle, and integrated local and channel marketing solutions provider, won "Best Go-to-Market Strategy."
The Localogy Excellence Awards recognize organizations and individual leaders shaping the future of localization for the more than 30 million local and small businesses who depend on them every day.
Learn more about Tiger Pistol's collaborative advertising platform for Brands and Resellers & Agencies.