How Local Ads from Local Pages Increase Relevancy and Decrease Advertising Costs
There is much talk in social media marketing about the importance of "local" social. But what does that really mean in practice? Put simply, localization drives ad relevancy.
When we look at the factors that make an ad more relevant, it boils down to two modifiers on your advertiser bid: Estimated Action Rates and Ad Quality. It's the combination of these modifiers that underpins the ad relevancy calculation, and more relevant ads "win" out over less relevant ones in bidding.
So how can you bump up your scores on these modifiers, thereby making your ads more relevant? It's a combination of things across your campaigns structure:
Use a Local Facebook Page over a Corporate One
"Local" Pages can mean different things. For example, a CPG brand that relies on channel partners to sell their products might consider their channel partners' individual store Pages the most local option, as it allows them to tie their products to a specific local point of sale. Whereas a real estate brand might consider their agent's Business Pages as the local Page. For franchise groups, this is often local store Pages over a single corporate branded Page. In either case, ads that come from local pages tend to be considered more relevant. Whatever the flavor, you want the page you publish through to be as close as you can get to your consumers and where they transact.
2. Localized Creative
Creative that is locally aware is also important. This means having both copy and media that references the local area, whether by calling out the location or neighborhood in the copy or even by differentiating media content by region. The more your creative can literally speak to your local audience, the more relevant it will be to them (See: Ad Quality).
3. Hyper-Local Targeting
Especially when it comes to marketing for local businesses, you want your campaigns to always be reflective of their true sales area. This is another case where vertical is important, as some businesses have naturally large sales areas. The logic is simple; an ad is going to be less relevant to a user if they see travel time as a blocker.
4. Strong, Focused, Calls-to-Action
It can be easy to fall into the trap of trying to do too much with your campaigns, wanting to promote multiple products or key selling points, Yet another paramount factor in ad relevance that Facebook also notes is, Estimated Action Rate – "an estimate of whether a particular person engages with or converts from a particular ad." Put simply, if you focus on a singular campaign goal, which Facebook Objectives by their nature are intended to do., you also want your copy to explicitly direct the user based on the campaign objective, i.e. "book an appointment online", "click to sign up." This encourages interested users to take the exact action of your campaign's objective.
These items may all seem small on their own, but they all come together to produce a more relevant ad. The challenge often comes with adapting to vertical-specific needs, as well as how to juggle so many local elements at once. We have seen in our data that a locality-focused campaign structure can even work at scale and with many different types of businesses.
Our Data Proves this Time and Again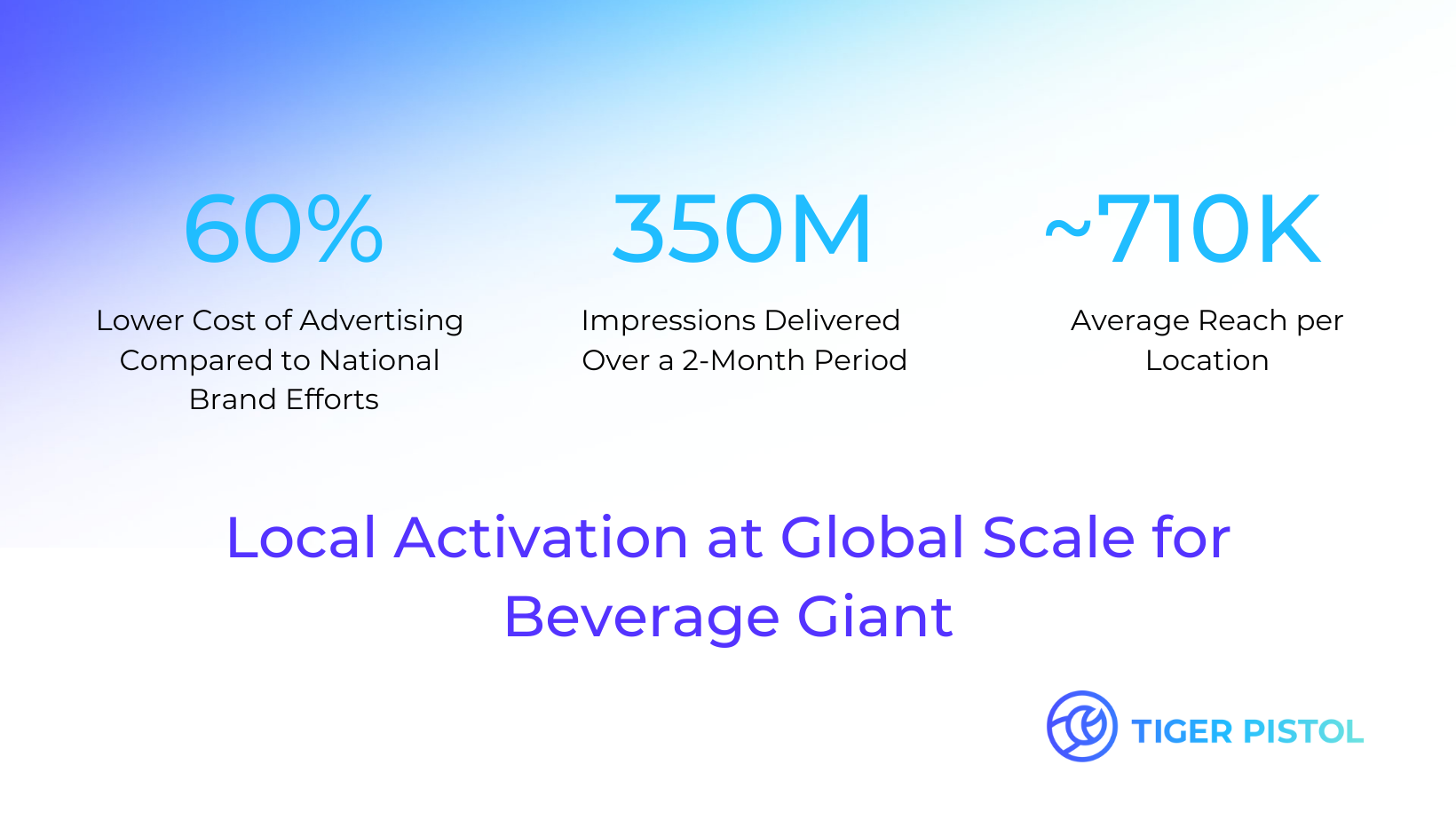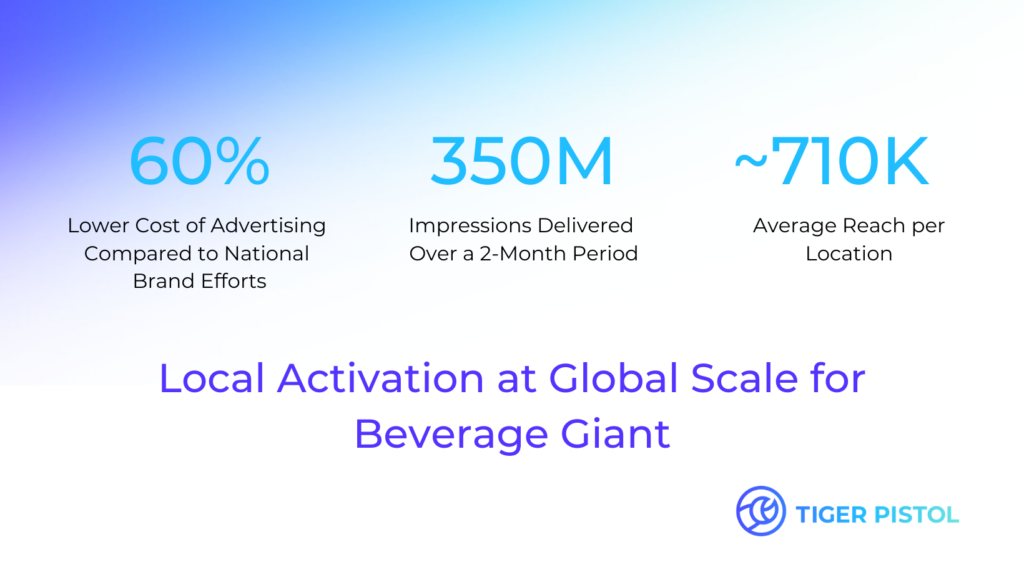 A CPG client used Tiger Pistol for distributing brand-approved campaigns to hundreds of restaurants and bars worldwide. They saw 60% lower CPMs across the local campaigns compared to their national brand efforts. The secret? More relevant ads. Comparing the national effort, which targeted the same consumer base, vs. the local campaigns, the differences are night and day. The distributed framework of the local campaigns meant the client had more exacting control in only geo-targeting the sales areas where consumers could get to the point of purchase. Additionally, unlike the national campaign, having local campaigns in-market meant that the creative could be region- or even hyper-specific.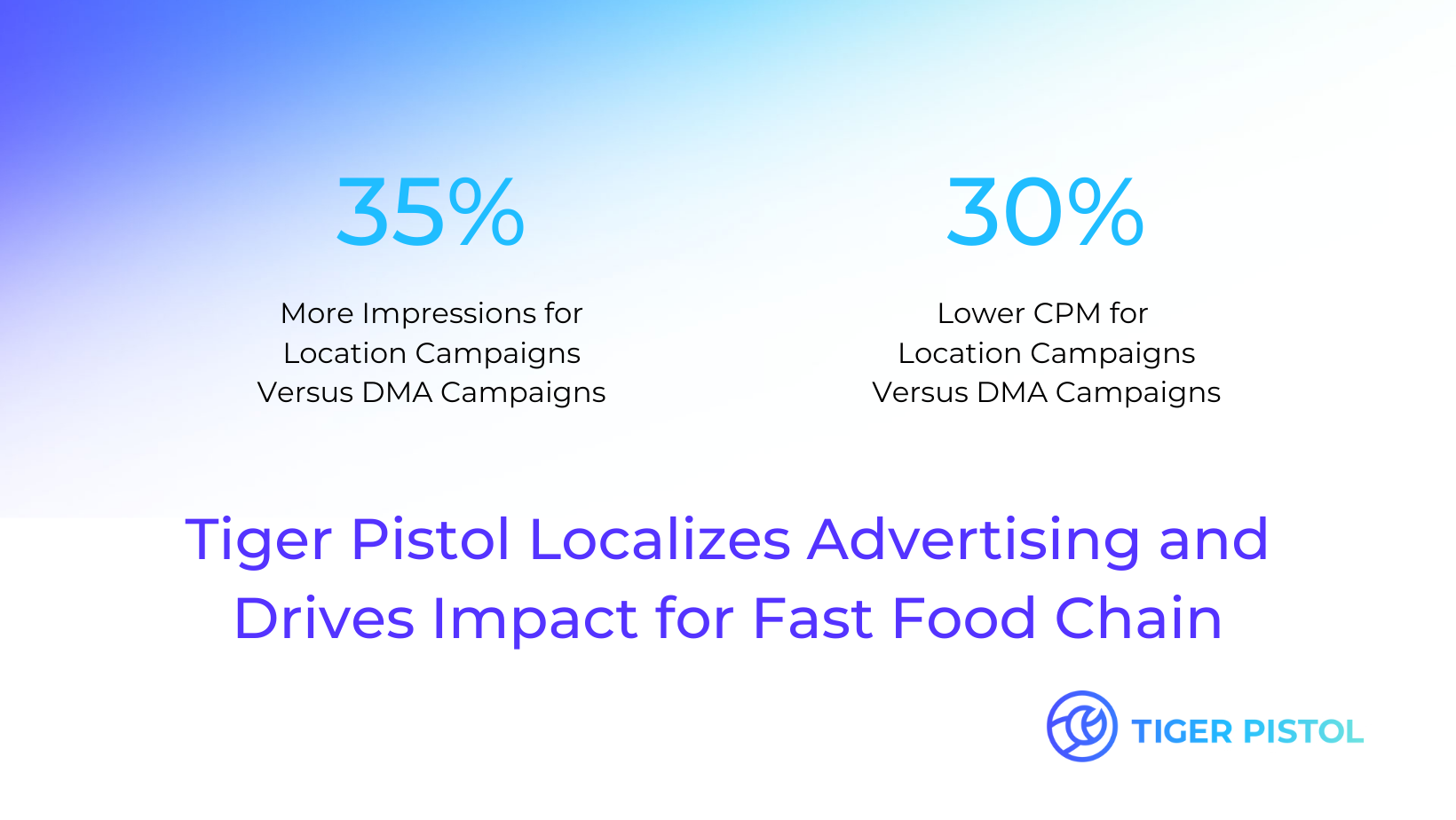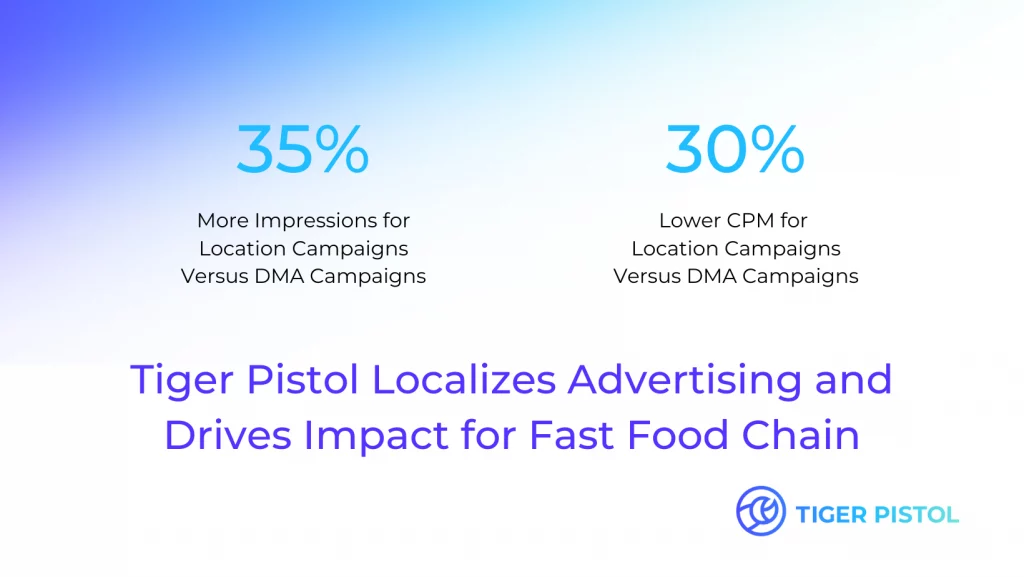 A national quick-service restaurant chain was continuously looking for insights and performance advice to improve social advertising campaigns. The client was running multiple brand-level campaigns off of the corporate Facebook Business Page, targeting by DMA across multiple locations. Tiger Pistol ran social advertising via local Facebook Pages, and the results were clear: local store Pages generated better results, with 35% more impressions and 30% lower CPMs than running the same campaigns through the national brand page.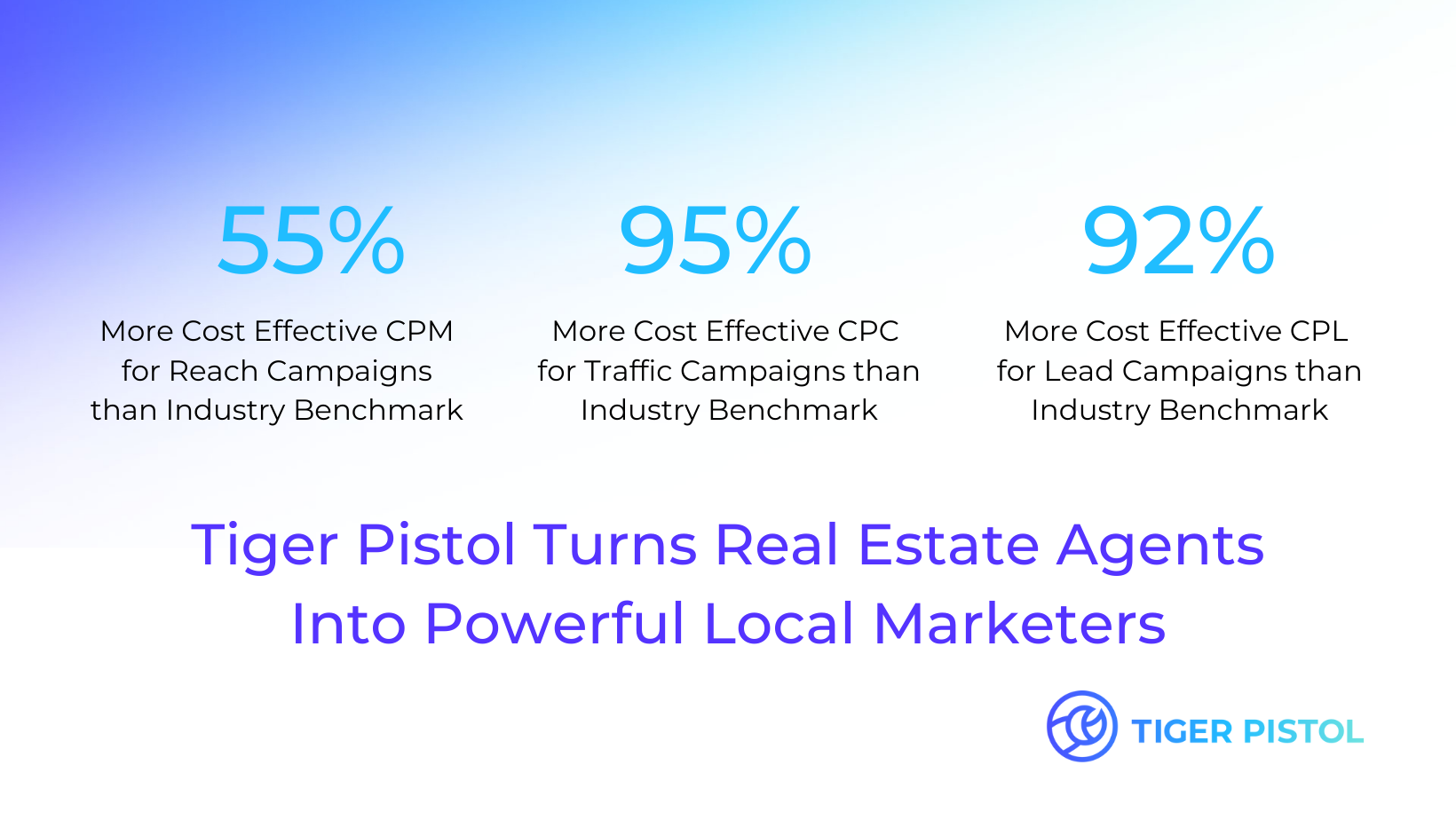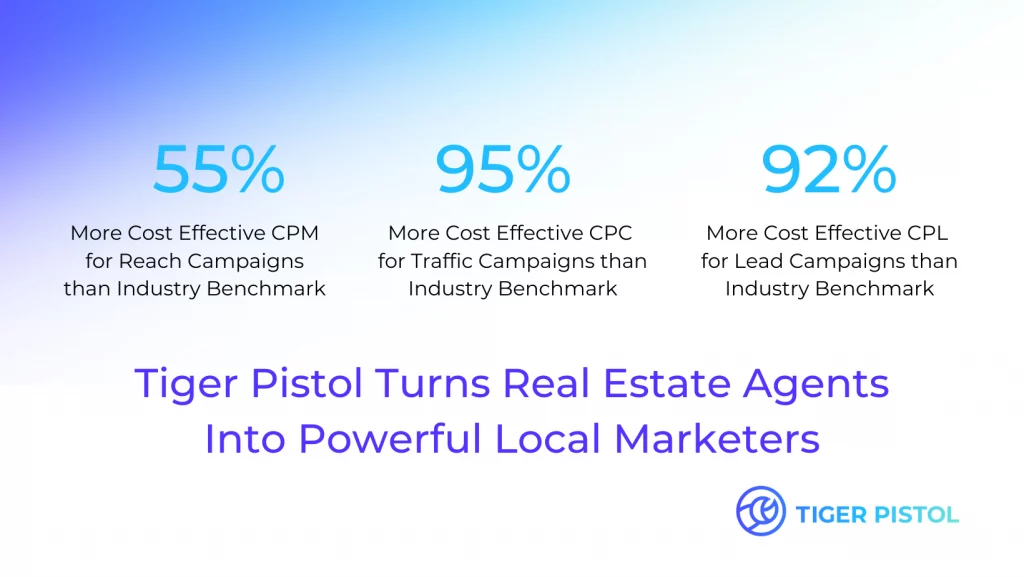 A Fortune 500 real estate services company engaged Tiger Pistol looking for a partner to help build a scalable, social advertising workflow solution that enabled their agents to promote their listings with auto-configured, best practice Facebook and Instagram campaigns. Tiger Pistol's platform gave agents the ability to publish campaigns directly from their own agent-branded Facebook Page. While other real estate marketing platforms support Facebook ads, such ads are usually rudimentary, driving impressions around the listing, with little room for the agent to generate leads. Our platform leverages the most relevant Facebook Ads Objectives to drive the results that matter, increasing agent awareness, increasing agent website traffic, and increasing lead generation, all while significantly decreasing the cost of advertising.
Local Advertising Just Makes Sense
It's intuitive the more you think about it. Are you more interested in buying a product or service from a brand located across the country (or even a business located across the county?), or would you rather purchase the same product or service from the business down the street? It's understanding holistically how all the different elements of a Facebook campaign can work together to create locality, it's targeting, creative, and the very framework that unlocks efficient, reliable delivery.
Learn more about how collaborative advertising dramatically increases content quality and lowers costs through a more personalized, localized approach to social advertising.