Tiger Pistol Honored with AdExchanger Award for Best Social Media Campaign
Anheuser-Busch InBev's Localized Campaign Supporting its Worldwide Network of Local Bars, Retailers, and Restaurants Earns Top Prize
AUSTIN, Texas, June 17, 2020 — Tiger Pistol, the leading collaborative advertising platform that delivers local activation at scale, has been named the winner of "Best Social Media Campaign" in the prestigious AdExchanger Awards, based on the remarkable results from the campaign that localized Anheuser-Busch InBev's (AB InBev) national advertising, making the brand the toast of towns around the world.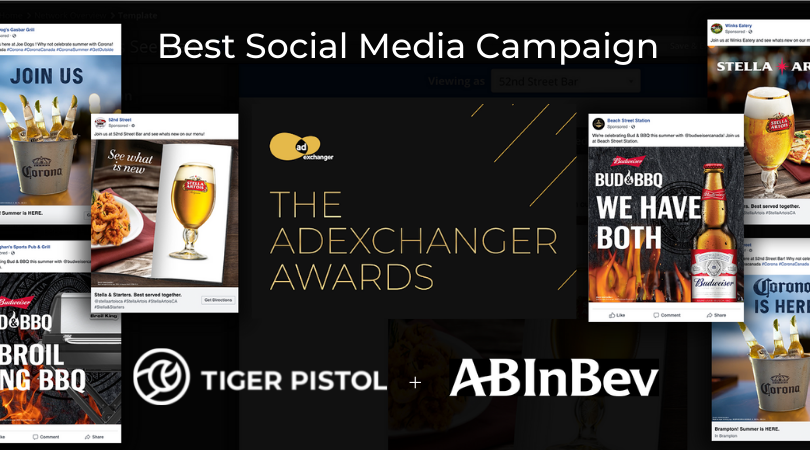 Through the Tiger Pistol platform, AB InBev shifted its budget to local social advertising, specifically Facebook and Instagram campaigns, aggregating touchpoints in communities around the world. This bottom-up approach generated larger and more meaningful results for its brand, drastically lowering advertising costs, increasing consumer engagement, and fostering loyalty among its worldwide network of bars, restaurants and retailers.
"For nearly a decade, Tiger Pistol has been obsessively focused on building the world's most effective and efficient social advertising platform for local activation at scale," said Paul Elliott, Tiger Pistol CEO. "This recognition by the AdExchanger Awards is high praise, and further validates our company's legacy of delivering 'first-evers' that drive client value. With our disruption-proof technology, we're able to pivot seamlessly for AB InBev, bringing the speed, versatility, and flexibility necessary for our current world situation, that's truly region by region and business by business."
Tiger Pistol powers AB InBev's Covid-19 local social strategy giving the brand's network of independent restaurants and bars, most of whom are suffering during this time, advertising power to help them drive business and reinforce the essential role restaurants and bars play in fostering memories and connections in the lives of consumers.
Pre-pandemic, AB InBev offered its establishments brand-funded, direct-response local social campaigns to drive foot traffic. Tiger Pistol continues to give AB InBev the opportunity to provide their establishments brand-level creative and messaging, but has shifted to ads structured around community building, gift cards sales, home delivery, or no contact curbside pickup in impacted communities.
"Our platform's capability is based on the flexibility and versatility needed to run more personalized, localized social campaigns," said Elliott. "In the thick of this pandemic and beyond, we're going to see some establishments open, some closed, some with varying business operations, and some that could even be closed for a day or two for cleaning. These fluctuating situations are highlighting the added benefits of our technology, as we empower our clients, like AB InBev, to function at a local level, which now has a much higher degree of importance in recovery and revitalization efforts."
AdExchanger, an award-winning integrated media company devoted to data-driven digital marketing, annually recognizes excellence, innovation, and the advertising and marketing world's brightest achievements through the AdExchanger Awards.
Learn more about Tiger Pistol and AB InBev's successful collaboration here.