Revolutionizing Franchise Recruitment: How Facebook Advertising Overcomes Labor Challenges
Labor continues to be a top concern for franchisees according to the recently released International Franchise Association (IFA) annual study on labor trends. Franchisees face significant challenges in finding quality labor and filling job openings. 87% of franchisees reported difficulty filling positions for unskilled and skilled labor and 44% reporting few quality applicants. This resulted in constrained growth for 81% of franchise brands. Facebook remains a popular platform for job postings. It can be an effective tool for quickly reaching qualified candidates to fill open positions, building a strong employer brand, and supporting franchisee success.  
By providing franchisees with brand-approved recruitment social ad templates and messaging, brands and franchises can ensure their franchisees adhere to brand standards and messaging, which can help maintain consistency and build trust with customers and employees. While an employment ad may serve a local need, ads that highlight the benefits of working for the franchise elevate both the location and the brand. These Facebook ads help attract more qualified candidates, who know your brand and its values, and differentiate your franchise from competitors.
Recently, the largest American hair salon franchise sought to equip their franchisees with a self-serve social ad solution that enabled the franchisee to launch on-brand, on-demand consumer and recruitment Facebook campaigns. Through the Tiger Pistol platform, salon franchisees could publish brand-quality recruitment ads that were dynamically localized and ran from the individual salons' Facebook Business Pages. This strategy increased relevancy and performance and dramatically decreased the cost of advertising.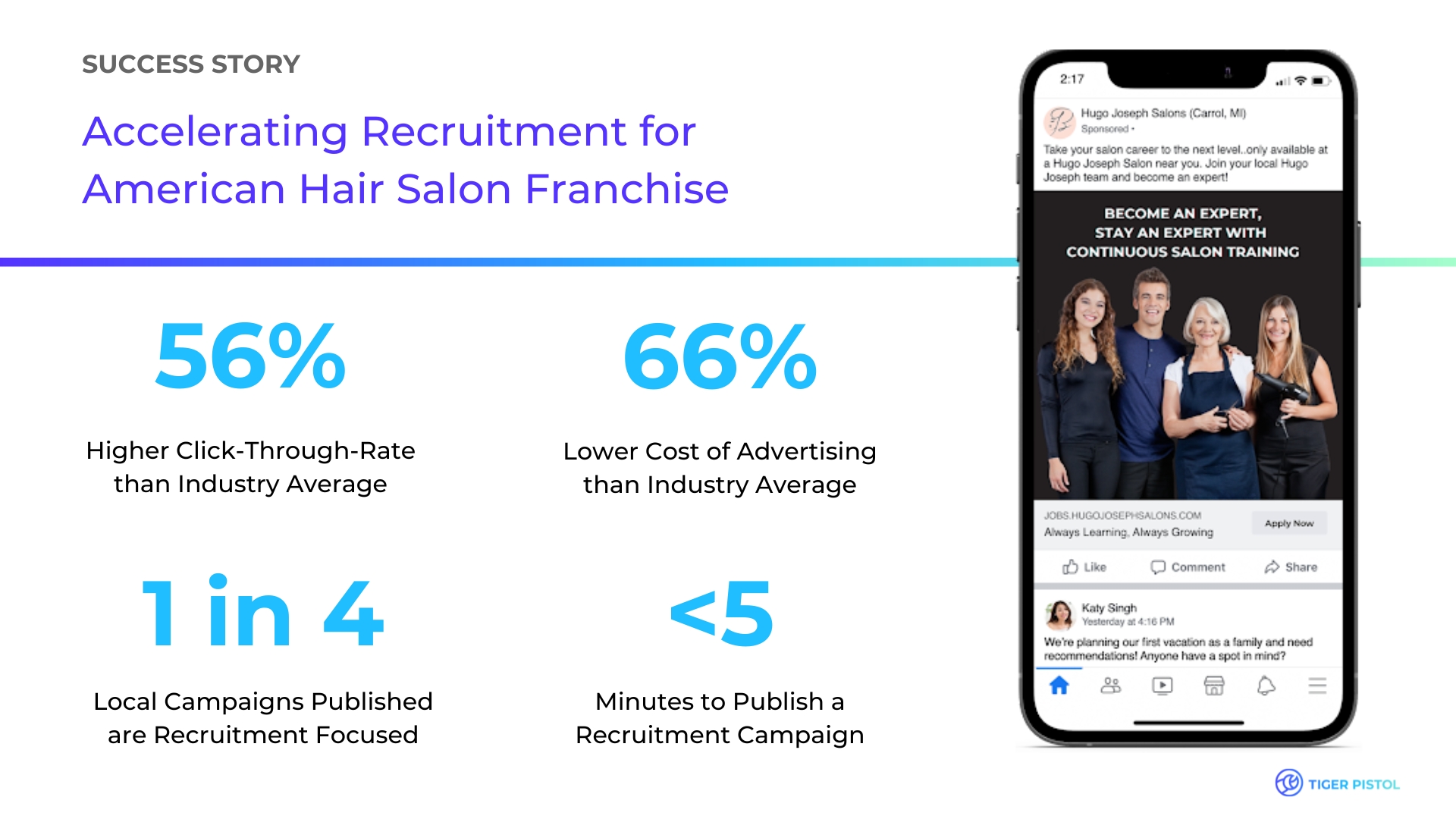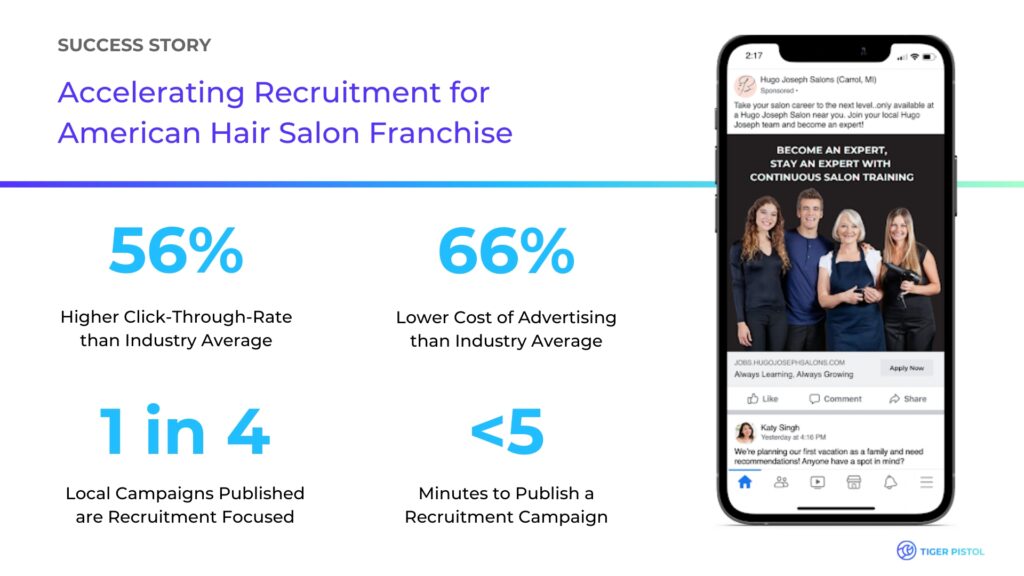 Tiger Pistol makes recruiting easier and more efficient through its lead generation and localized conversion campaigns on Facebook and Instagram. Potential candidates can complete a form without leaving the platform. Because these ads run from the individual franchisee's Facebook Business Page, applicant information is forwarded directly to the hiring franchisee. The Tiger Pistol platform also supports localized conversion campaigns optimized for application submissions within specific target areas. With on-brand, on-demand templated recruiting campaigns, franchisees can quickly and easily select the position they are hiring for, pay, and publish, posting a position within minutes of realizing they have a job opening. 
Recruiting campaigns on Facebook and Instagram often contain rules that are easy to miss. Tiger Pistol specializes in streamlining the recruiting process on Meta properties. This ensures no rules are broken with controls that safeguard against potential pitfalls related to data, targeting, and other features that cannot be used in Meta advertising. Tiger Pistol's platform automatically disables Facebook Ad Manager features that could potentially lead to campaign flags or other time-consuming issues, resulting in a hassle-free recruiting experience for your franchisees.
Enabling franchisees with Facebook advertising for recruitment helps franchisee success. By leveraging the franchise brand's power to attract top talent, franchisees can build strong teams that deliver exceptional customer experiences.