How Collaborative Social Ads Reactivate the Local Market
Mutual Collaboration Engagement Model: Local Customization
At the heart of collaborative advertising is the belief that brands and partners working together creates a result that neither could attain on their own. Nowhere is this more evident than through local customization, or as we call it, Mutual Collaboration.
For many channel partners, effective advertising feels like a foreign language, especially when they attempt more complex approaches such as social advertising. While the majority of them are planning to invest in social advertising, they find the path to effectiveness to be unclear, and usually without a guide. Consider the stats below: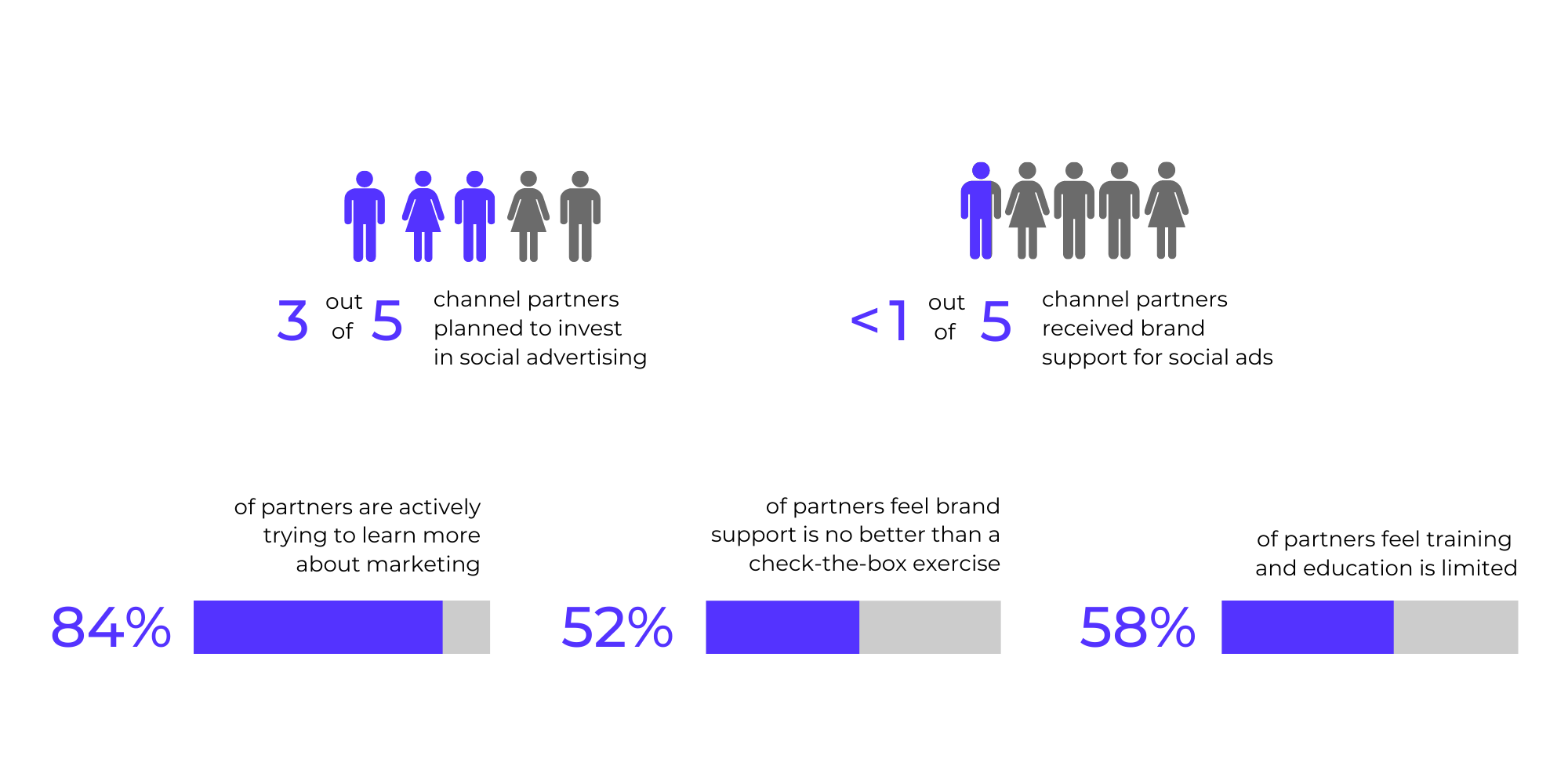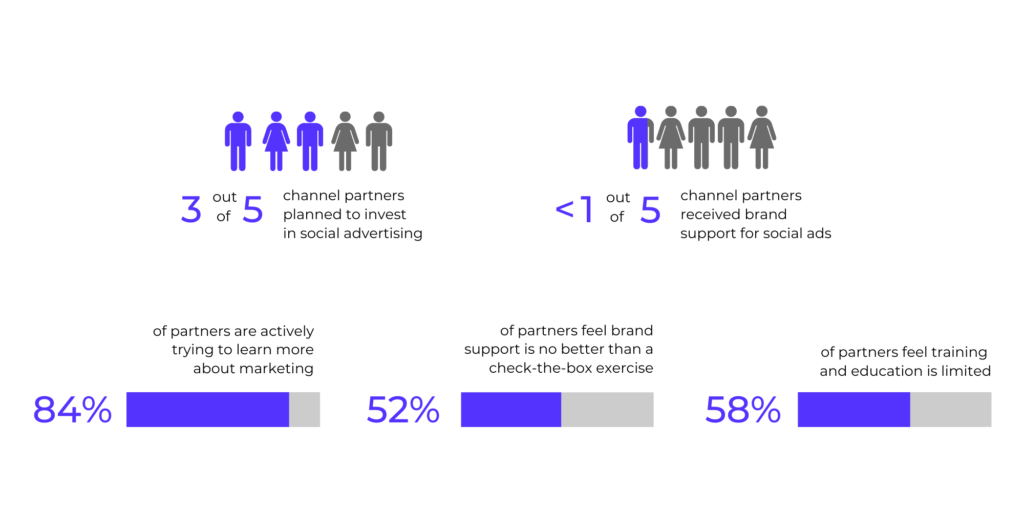 Source: BrandMuscle
Channel partners are seeking the very expertise that brands leverage every day. In fact, many brand marketers attempt to solve this challenge through providing creative assets and instructions to assist their partners in social marketing, but when those same marketers review how these resources are used, they find their partners are using the components incorrectly. Instagram images are found in Facebook ads, copy has been edited, and best practices are missing. Partners need more direction than simply being handed the ingredients to great advertising. Just as eggs and flour require a chef to become a delicious cake, great copy, imagery, and audience data require a talented marketer assisting the local expert to become revenue.
Collaborating on Social Media
It is becoming more evident that social advertising has been a missed opportunity for brands to better leverage the strengths of their distribution channels. With 75% of sales occurring indirectly, brands constantly compete to stand out from the rest of the shelf. This battle extends to driving preference over competitors in cases where a retailer chooses only one brand to offer its consumers.
Collaborating on social advertising is the perfect way to combine a brand's power and marketing resources with the local business's knowledge and reputation. The brand gains strategic control of the messaging and tone of how their brand is presented. Simply stated, brands that offer collaborative social advertising solutions to their network of channel partners create a competitive edge for both the brand and the partner.
Anatomy of a Mutual Collaborative Ad
A templated publishing workflow allows brand and agency teams to design campaign concepts that automatically localize and deploy to the appropriate partners while maintaining brand integrity at a global scale. These templates should afford flexibility, ranging from complete brand control with dynamic localization, to partial brand-control, where partners can select and enhance brand-provided creative with local dialect, events, points of interest, or offers for increased localization and personalization.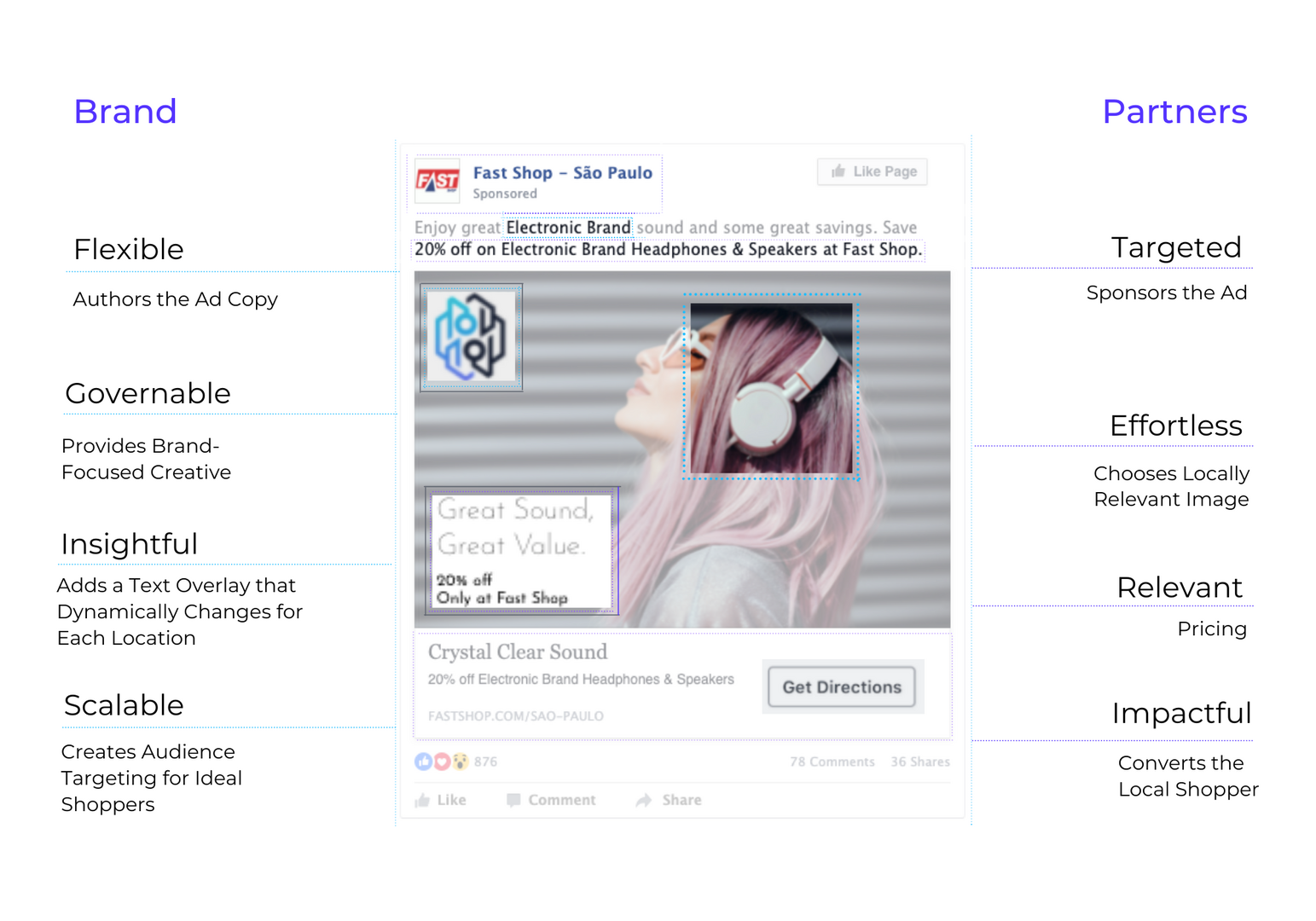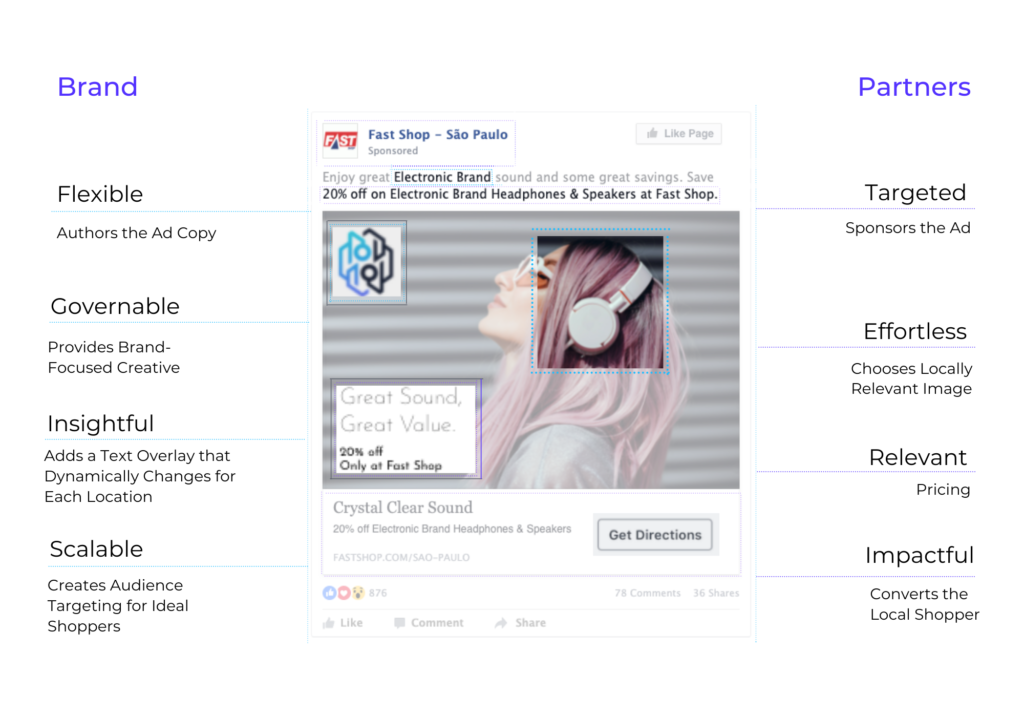 Better Together
Brand's Benefit By:
Accelerate customer acquisition through advertising that resonates locally
Increase down-funnel product sales/consumption
Deliver greater advertising spend efficiency through micro-budget campaigns
Improve partner performance, brand preference, and loyalty
Maintain brand quality and control
Partner's Benefit By:
Receive powerful brand-level tools that would otherwise be out of reach
Save time and avoid costly mistakes
Utilize high quality brand creative that elevates their local presence
Gain access to brand funded programs and/or co-op options
Obtain direct access to performance reporting and leads
The Collaborative Engagement Model in Practice
An international beauty brand engaged Tiger Pistol for supplier funded collaborative social campaigns, which would run from individual salon Facebook and Instagram Business Pages, when salons purchased a certain level of the brand's product. Value creation between the brand and their network of salons helped to improve partner satisfaction, plus participating salons saw a 22% increase in product sales compared to the 1% growth from non-participating salons.
A Global Fortune 500 beverage company partnered with Tiger Pistol to help with their COVID-19 revitalization strategy to support their global network of bars and independent retailers during the uncertain time. With the Tiger Pistol platform, the brand could build and distribute 1000s of dynamically localized campaigns at a global scale in minutes, driving foot traffic and sales for local bars and retailers in addition to brand awareness. The brand's channel partners saw exceptional results in a matter of weeks, a 20% uplift in orders and a customer return on ad spend nearly 8x.
With the Mutual Collaboration Model, reactivate the local market and connect your brand to where shoppers buy your product. Learn more about Who Uses Tiger Pistol and the Tiger Pistol Models of Engagement.