How Collaborative Advertising Delivers Exponential Success for Brands & Their Channel Partners
With everybody and their mother using social media these days to advertise, it's necessary for brands to create effective marketing messages that reach and resonate with their consumer base. Enter collaborative social advertising. Through a symbiotic process, brands empower their channel-partners with resources and templatized branding materials while channel partners offer brands their knowledge of their local markets. This enables brands to build and distribute meaningful, relatable social advertising that successfully identifies different audiences' needs, wants, and purchase patterns.
Collaborative advertising addresses the crucial need to connect a brand's power with their channel partners uniqueness. Furthermore, when brands and their channel partners collaborate in advertising, they realize results greater than either entity could achieve on their own. Think of it like 1+1 = 3.
Benefits For All
What's in it for the Brand
Accelerate customer acquisition through advertising that resonates locally
Increase down-funnel product sales/consumption
Deliver greater advertising spend efficiency through micro-budget campaigns
Improve partner performance, brand preference, and loyalty
Maintain brand quality and control
What's in it for the Partner
Receive powerful brand-level tools that would otherwise be out of reach
Save time and avoid costly mistakes
Utilize high quality brand creative that elevates their local presence
Gain access to brand funded programs and/or co-op options
Receive direct access to performance reporting and leads
This should be a no-brainer. Neither party has anything to lose, only everything to gain.
So Why Isn't Everybody Doing It?
Using Facebook's native tools to build hundreds or thousands of ads from scratch for each location is like trying to build a sand castle with tweezers. It's just too hard and time-consuming to be worth the effort. To achieve this level of localization in social advertising requires advanced automation tools.
Enter Tiger Pistol
In a post-pandemic world, the modern shopper values convenience and local shopping. Tiger Pistol's Collaborative Advertising Platform™ marries the recognizable creative of the brand with the locality of the channel partner to facilitate immediate action and a path to purchase without friction. Here's how it looks in practice: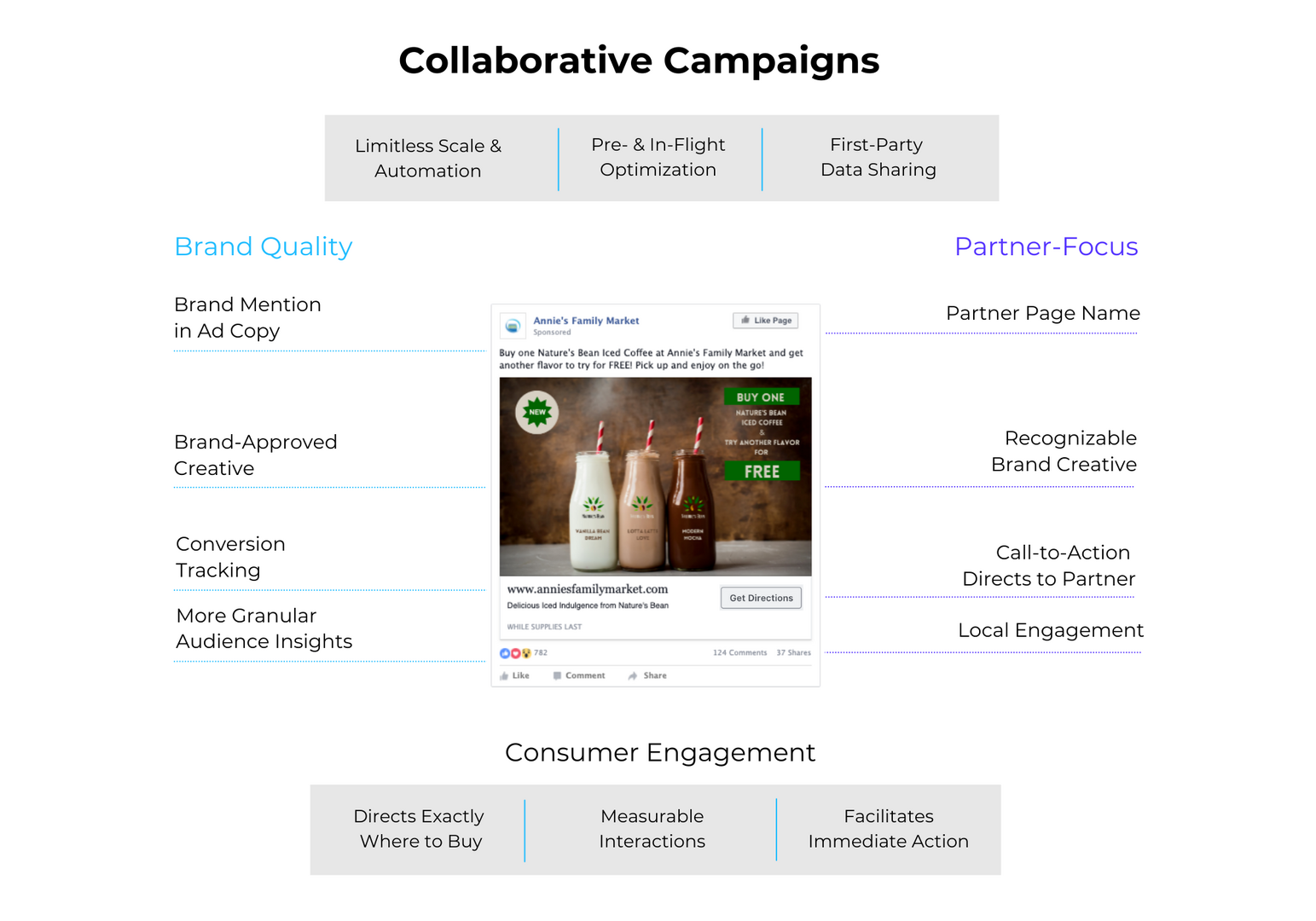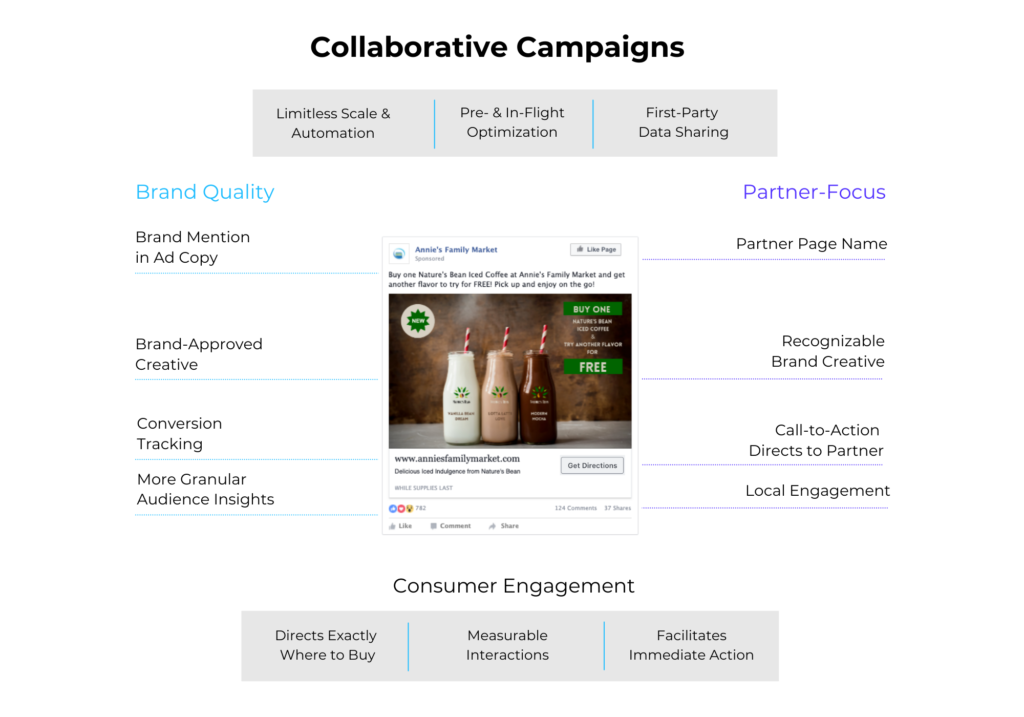 Still not convinced that collaborative advertising is the best move for your brand? Here are some performance metrics from our clients to illustrate the positive results:
A Global beauty brand collaborated with its salons to achieve a 22% Increase in its professional product sales
A Global Fortune 500 beverage company realized 8x ROAS through local campaigns published across their independent network of bars and restaurants.
A skin care company partnered with its dermatologist network to recognize 190% higher lead acquisition than national benchmark campaign
A nutritional supplement company collaborated with its grocery network to achieve a 36% incremental uplift in sales quantity over the campaign period.
A beverage giant partnered with a national liquor store chain to recognize a 710% YoY increase in sales quantity.
The leading U.S. fabric and craft retailer applied advanced attribution to ads run from their locations to discover that localization drove store visits in 80% of ads that were clicked.
Tiger Pistol is the only advertising platform that brings true collaboration between brands and channel partners into the digital space. Our platform makes collaborative social advertising stress-free and accessible while delivering unparalleled sales and acquisition results for your brand and channel partners.
Learn how Tiger Pistol's platform for brands can support your brand's diverse network of partners.