The Secret Weapon Brands Need to Fight Against Facebook's Rising Cost of Advertising
Facebook CPMs are rising once again, and it's no surprise that as parts of the world begin to approach a more real sense of normalcy, brands are returning to the platform after many months of holding or reducing spend. While there has always been some seasonality to Facebook CPMs, both COVID's upheaval and the social justice related black outs on Facebook posting in 2020 likely caused more dips and valleys than normal with ad delivery costs. Even still, AdExchanger is predicting that CPMs are going to continue to rise (and then some more once the holiday season hits). While it may seem like an unavoidable increase in cost due to increasing demand for digital advertising space, in truth, marketers still have much more control than one might assume to manage CPMs.
Higher CPMs are nothing if not a signifier for increased competition, but in an ad auction system that factors ad quality and relevancy in its bids, you have everything you need to win – regardless of the competition. Facebook lays it out nicely,
"People prefer to see ads that are relevant to them, and when businesses show their ads to relevant audiences, they see better business outcomes. That's why we consider how relevant each ad is to a person before delivering an ad to that person. Ads that are more relevant cost less and see more results."
While all bidding systems have an element of variability, Facebook itself even warns against relying too heavily on relevance diagnostics alone. They do note "an ad that's relevant to a person could win an auction against ads with higher bids." As marketers, we need to consider our direct control over the inputs to our advertising campaigns. With increased competition on Facebook, it's a race towards building the most clickable, relevant ads that consumers want to engage with.
Tiger Pistol's own data actually shows a different trend, from Q3 2020 to Q4 2020 our aggregate CPM did rise in the holiday period, but has been on a steady downward trend since, carrying into Q1 2021 as well.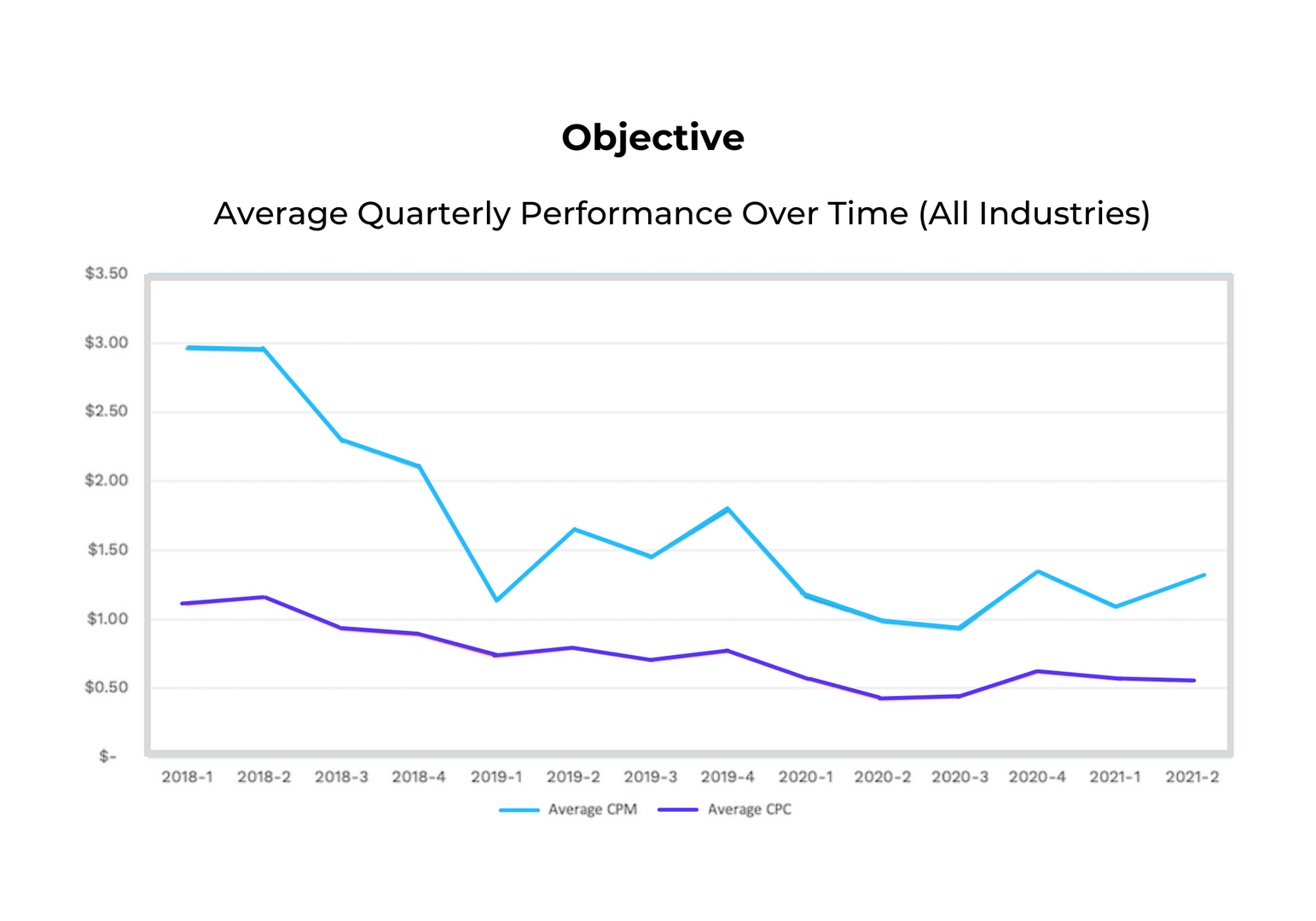 In many ways, it is a story of the types of campaigns published through Tiger Pistol, which all tend to be brand focused micro-campaigns – hyper-local, highly-relevant ad campaigns that focus on specific consumers, products, and communities. The effect is a highly-focused ad unit, with a clear call to action and singular focus on driving a transaction at a point of sale.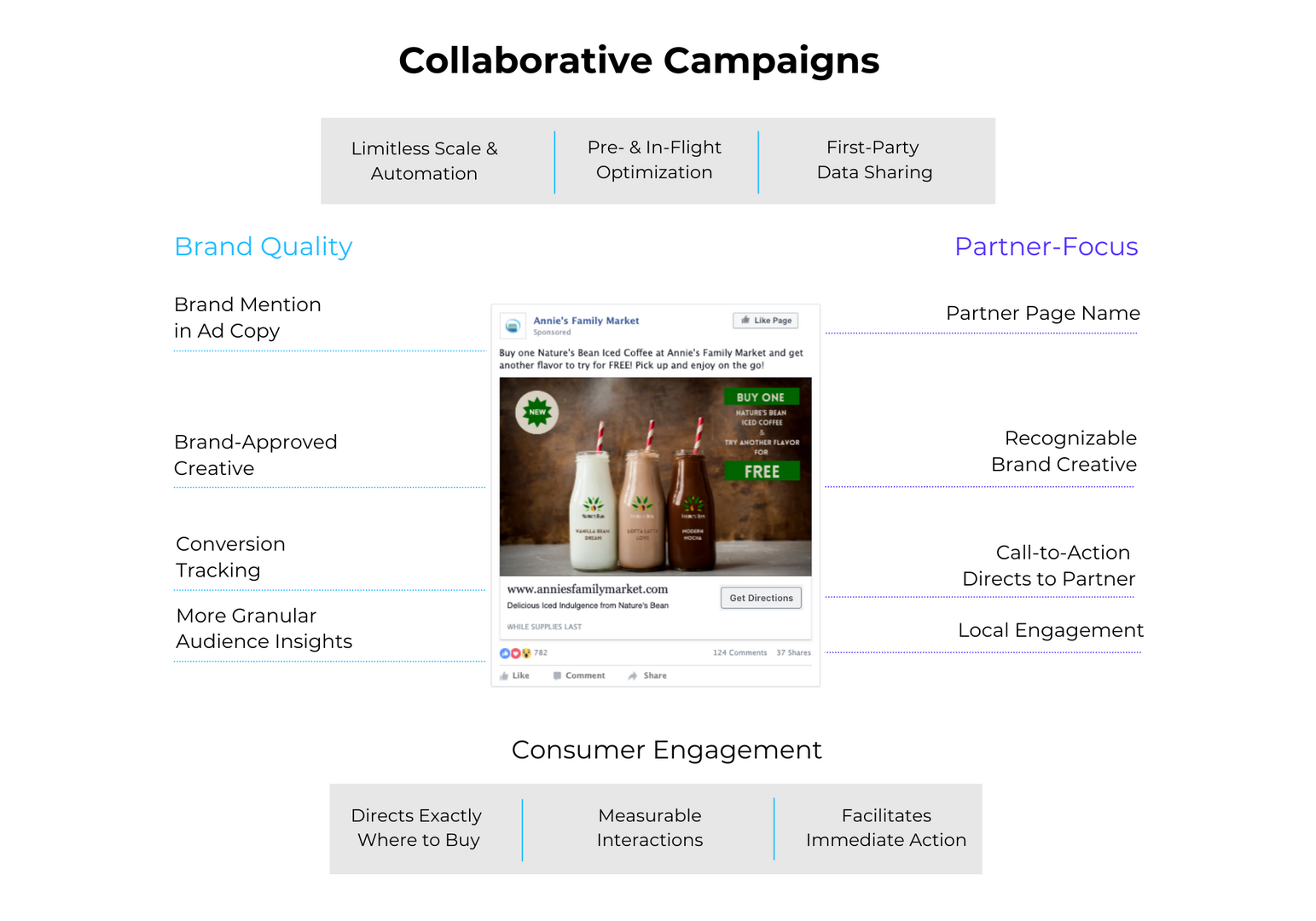 Tiger Pistol campaigns, whether cross-channel or collaborative, are tightly focused on three key components: proximity, applicability, and transaction optimization – all of contribute to better performing ads, as they are always constructed in a way that is most relevant for a consumer.
Proximity: Even under COVID, geo-proximity remains an important component of digital advertising. Tiger Pistol campaigns always work to deliver consumers ad units that feature the point of sale that is closest to them, whether that is a vending machine or convenience store for a CPG brand or a local insurance agent who serves their town.
Applicability: What's more, a consumer living in a small town in Ohio, might have two or three grocery stores in town to choose from. A cross channel Tiger Pistol campaign ensures they are shown an ad from their preferred store, the one they actually shop at. If their neighbor prefers the other store? That same campaign delivers them a focused ad unit from that store.
Transaction Optimization: Brand campaign performance is often judged on ROAs, which is why transaction optimization is so important to driving ad relevance and performance. Our campaigns often feature 1-click or fully-contained transactions that allow consumers to interact with ads quickly and purchase products or services.
It is when all these are factored together that a campaign ran through Tiger Pistol is able to show a BOPIS (Buy Online Pick-up In Store) ad unit to the customer that always likes to buy online and pick-up from the store, and a home delivery ad unit for the consumer who prefers to remain at home. Send a campaign like this to Facebook, and you never worry about being irrelevant.
Taken together, they become more than the sum of their parts. Put simply, it's all about showing captive consumers where to buy products – capturing micro-moments with an easy path to conversion. It's a recipe with many different flavors yet with the common denominator of data. If your CPMs are still rising, consider taking a hard look at your creative, your target audience, and the buying paths you ask customers to take. If it's not imminently obvious where and how they can buy your product or service when delivered your ad, then you very well might be losing out. Advertising is just as much about being inspiring and captivating in the high-minded sense as it is about making it easy for your customers to purchase from you.
Learn how Tiger Pistol's platform for brands can support your brand's diverse network of partners.