The Mayer of Strategy: Deploying Micro Campaigns at Scale to Address Different Customer Segments
Chris Mayer serves as Senior Solutions Engineer at Tiger Pistol. His series, Mayer of Strategy, examines social advertising strategies that depart from the traditional digital marketing linear funnel approach. Chris outlines methods for both decentralized and centralized frameworks, in which product messaging is negotiated through different stakeholders – with strategies that acknowledge that the sales rep who works for the store that sells your products is just as important as the consumer who ultimately buys them.
For brands with multiple customer segments, matching marketing strategy to your market can be complex. It doesn't have to be. Collaboration is the key to pulling it off right. Take for example our experience with Kichler, the innovative leader in decorative light fixtures, lamps, and home accessories. 
Often lighting is a component of a larger room design, and many consumers work with interior designers or other home improvement specialists who often make the decision at the point of purchase to review with their clients. Therefore, brands like Kichler must approach their marketing not only with the end-consumer in mind, but also professionals recommending options and especially the local dealer who guides the decisions in their store.
For Kichler, this multi-pronged sale required two things to be achieved at the same time:
Any effective strategy needed to speak to the language of the consumer, but in the dialect of the designer or builder.
Kichler is sold through lighting dealers, which can feature hundreds of products in a showroom, including competitors. They needed to separate themselves in the mind of local dealers who recommended lights to designers, builders, and consumers alike.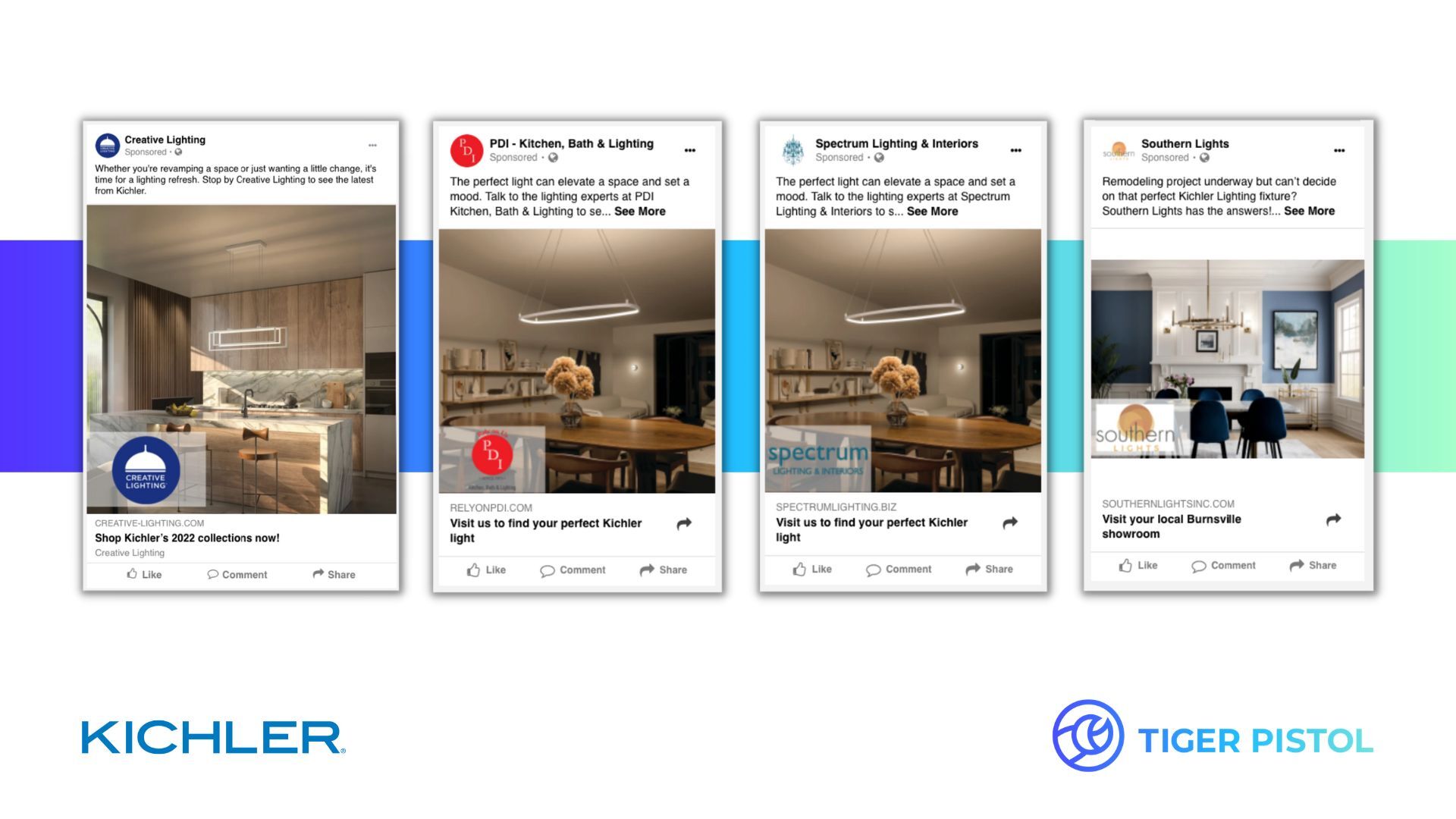 By understanding this nuanced path to purchase, Kichler used Tiger Pistol to complement in-store displays with store-level paid social campaigns. This combined strategy drove sales by connecting a brand's digital reach to consumers and designers to a specific local independent lighting dealer with increased point of purchase signage. Not only that, but each dealer was able to customize their ad based on choices pre-approved by Kichler.
This potent combination allowed Kichler to drive sales through their independent sales network of dealers, but also built loyalty with the dealers themselves. Through collaborative social advertising, Kichler's relationship with their dealers transformed beyond just a supplier and into a strategic partnership focused on customer acquisition. Moreover, both enjoyed a 58% decrease in CPM (Cost per 1000 Impressions) creating a broader reach without the expanded budget.
Is your brand exploring ways to introduce a quality social program to your channel partners? Learn more about Tiger Pistol's Collaborative Advertising Platform for brands.