Effortless Onboarding Part 1: How to Remove the Complexity of Onboarding Your Channel Partners at Scale
It's a big fear. You invest in a local social advertising program, but you're scared your locations and channel partners won't participate.
No worries. Tiger Pistol's got this.
Our platform creates an easy user experience that helps with adoption through 3-step onboarding, email communications, and a dedicated help desk.
Onboard locations and connect local social pages easily using a number of fast, simple tools – saving you time and effort.
Mass upload using spreadsheet import
Mobile-friendly sign-up tool enables face-to-face connection
Single-location creation in 3 simple steps
Yext Integration for automatic import and updates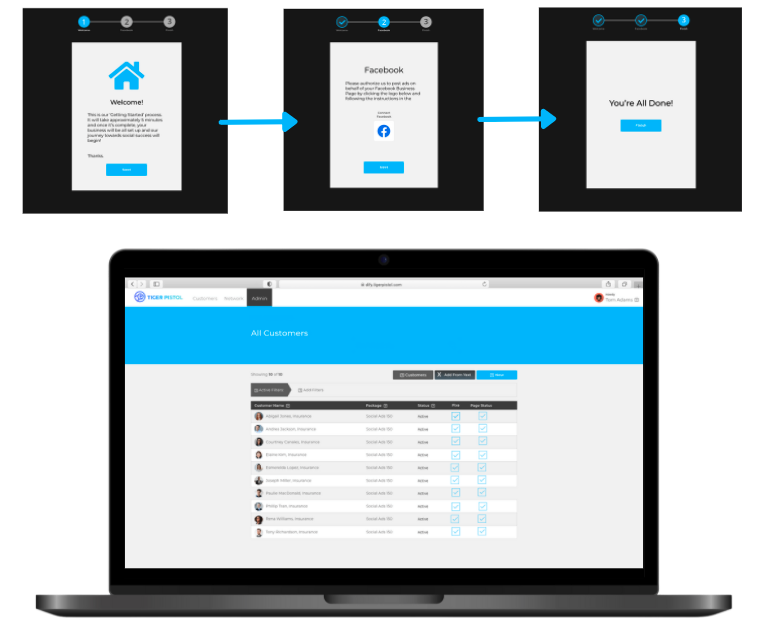 That's just the beginning.
Our client success team is the real backbone of this operation. They happily travel to large company meetings to train onsite, in addition to providing quality training materials like how-to-videos, click-throughs, platform FAQ, and webinars. They keep track of end-users who abandon during execution and reach out to help them complete their advertisement.
Let's talk about how Tiger Pistol can empower your locations and channel partners.