Rekindling Connections and Igniting Collaboration: Tiger Pistol Team Unites in Cleveland
The Tiger Pistol team came together for the first time since the Covid-19 pandemic for 3 days of strategic and spirited planning. Not only was this a great chance for team members to get together and collaborate, but this opportunity also allowed team members to bond and get to know each other better. Having employees from all over the country has its advantages, but limits interactions between team members to a virtual basis. However, once everyone at Tiger Pistol got together in person, it was almost as if nobody missed a beat, and everyone clicked immediately. It was instantly obvious that the Tiger Pistol office was going to bring about deeper connections between employees who may not converse with certain departments as much.
It was great physically meeting with the whole team while we were together in Cleveland. While we may "see" each other on Zoom, nothing beats brainstorming and working together to tackle hard topics in person. And then, when the work is done, sharing a meal and getting to know each other makes it that much better. It made for a great team-building experience.

Sarah Cucchiara, VP, Business Development
While a great deal of work and meetings ensued throughout the week, the multiple group activities outside of the office showcased our fun, quirky side. On our first night, the team took a party bus over to SVP of Operations, Kierston Vaughn's home for a company cookout, which made great use of a beautiful sunny day in the Greater Cleveland area.
Through her genuine warmth and hospitality, Kierston showed us the power of creating bonds beyond the confines of the workplace, reminding us that a true team is built not just on professional collaboration, but on shared moments of joy and connection.

christina morello, marketing Director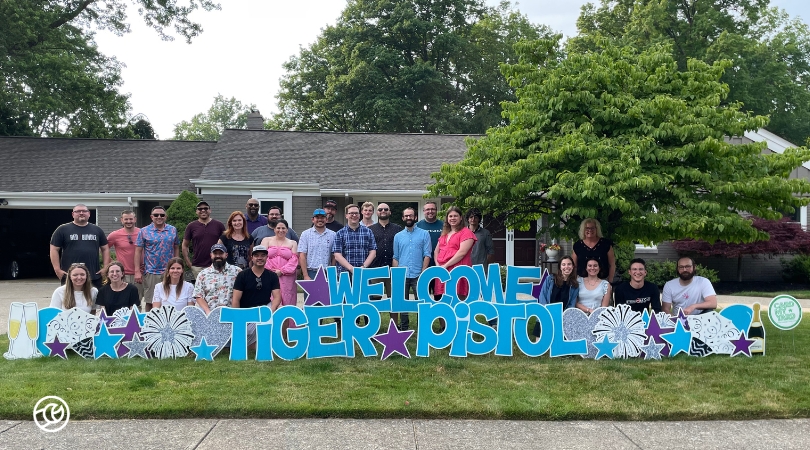 The following day Tiger Pistol team members took a trip out to the Cleveland Script Sign overlooking Lake Erie to take a group picture. That evening, the team headed to Corner Alley for dinner and some friendly, competitive bowling.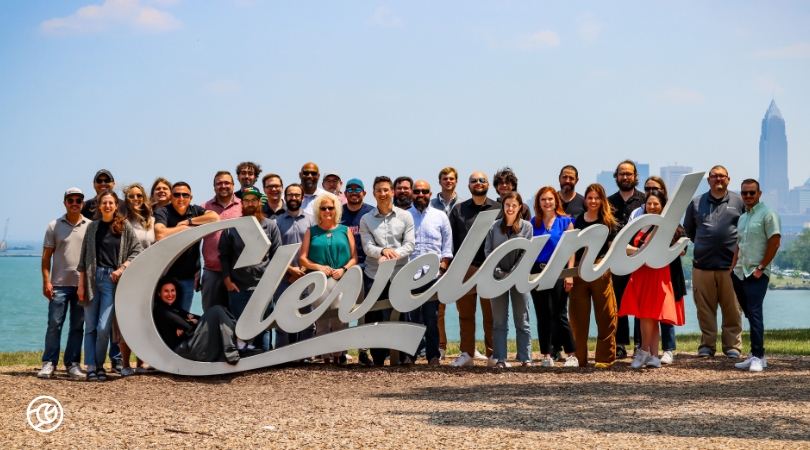 I really enjoyed getting to know people out of zoom / work. Bowling and being just "out and about" brought out different sides of people and I got to talk to people that I hadn't talked to before. It was an amazing experience.

stephen brooks, software engineer
These in-person team events not only fostered a sense of camaraderie and collaboration, but they also laid the foundation for stronger relationships that will undoubtedly enhance our work dynamics and drive future success.
To wrap up Tiger Pistol's week in Cleveland, everyone attended an all-company meeting with one goal in mind – driving client success. Each team showcased their current roadmaps, emphasizing recent successes in 2023, and highlighting their unwavering commitment to delivering exceptional results.
Company gatherings are A NECESSITY. Going into the week, some of us didn't know one another beyond a name on Slack or a face on Zoom. Not only did we all leave last week feeling empowered, but we left with new friends. Because of this, communication will flow more smoothly, and cross-team work will be easier. I am excited that in-person team events are a priority for our company.

camryn rosenstein, marketing associate
As an intern, the company week in Cleveland allowed me to see another side of the team members I usually interact with through Zoom calls. Team members treated me as one of their own, offering valuable advice and perspectives from when they began their careers. This week also gave me an important lesson about how important company culture is to an organization. The way the Tiger Pistol team interacts with each other, both professionally and as friends, made me realize how much they care about building success not only for the company, but for their colleagues as well. In my future job search, I know a great culture is going to be high on my list of wants.